Top Story
Indiana Mayor Pete Buttigieg (BOO'-tuh-juhj) is the latest Democratic presidential candidate to agree to hold a town hall meeting on Fox News Channel.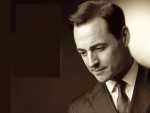 Tony nominated actor Max Von Essen feels a strong attachment to the songs from the Great American Songbook & classic Hollywood musicals, and has channeled it into his first CD, "Call Me Old Fashioned." EDGE spoke to Von Essen about his CD & his career.
American Repertory Theater (A.R.T.), under the leadership of Terrie and Bradley Bloom Artistic Director Diane Paulus and Executive Producer Diane Borger, is pleased to announce its 2019/20 Season programming.
Boston, MA
The Huntington Theatre Company premieres a timely and essential adaptation of Federico García Lorca's 1934 play "Yerma," a tragic tale of one woman's desperate yearning to start a family.
Emerson Colonial Theatre announces an evening of conversation with Christopher Markus and Stephen McFeely, the top screenwriting team behind the final two "Avengers" films and the "Captain America" franchise.
Mayor Pete has not been coy about the fact that he is gay, and he has been equally forthright about his status as a happily married man. But just who is his husband, Chasten Buttigieg?