Top Story
"On Becoming a God in Central Florida," starring Kirsten Dunst and debuting on Showtime Sunday, is a twisted take on the American dream.
Plácido Domingo returns to the stage at the Salzburg Festival on Sunday in his first appearance since nine women accused him of sexual harassment in a report by The Associated Press.
Eddie Money says he has stage 4 esophageal cancer. The singer known for such hits as "Two Tickets to Paradise" and "Take Me Home Tonight" says his fate is in "God's hands."
Disney kicked things off with "Star Wars," revealing glimpses of some new footage from "Star Wars: Episode IX — The Rise of Skywalker." The film, which hits theaters Dec. 20, ends the Skywalker saga that began over 40 years ago.
The series turned Starz into a must-watch cable network for many viewers, proved 50 Cent's instincts correct and along the way turned its characters into internet sensations and, in some cases, household names.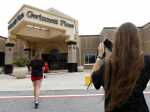 Soon after Netflix released "Stranger Things," fans of all ages came into Bradley's Big Buy grocery store in Palmetto, Georgia, dressed like characters from the show, and wandered toward the Eggo waffles aisle, cameras in hand.