Beth Gardiner's world tour started with the diesel smell in her adopted hometown of London. It took her to Delhi, Beijing and Krakow, in Poland, as well as Berlin, Los Angeles and California's San Joaquin Valley. She was on an air pollution tour.
U.S. health officials are investigating what might be causing hundreds of serious breathing illnesses in people who use e-cigarettes and other vaping devices. They have identified about 450 possible cases in 33 states, including six deaths.
Emory University medical fellow Dr. Nicole Herbst was shocked when she saw three patients who came in with abnormal results from chest CT scans they had bought on Groupon.
Many of the country's leading health policy experts have wondered why Presidential candidates have given a pass to arguably a primary culprit behind runaway medical inflation: America's hospitals.
One out of every 13 seniors in America struggles to get enough food to eat while the federal program intended to help hasn't kept pace with the graying population.
Nearly 1,100 employees being laid off at Ohio Valley Medical Center in Wheeling and sister facility East Ohio Regional Hospital in nearby Martins Ferry, Ohio.
Thousands of women in the U.S. have crossed state lines for an abortion in recent years as states have passed ever stricter laws and as the number of clinics has declined.
at a time when parents and society are putting increased pressure on students to go to college in order to have a successful life, students' mental health and overall readiness for college are being overlooked.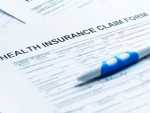 While many Capitol Hill Republicans want to avoid a repeat of the Affordable Care Act repeal debate, President Donald Trump keeps promising a health plan that will be "phenomenal" and make the GOP "the party of health care."
A study that tracked over 1,000 Ebola survivors found they had a higher than usual chance of dying in the year after their recovery. Some health officials said the results suggest more should be done to monitor the health of survivors amid the ongoing out