1 thru 10 of 7348 Stories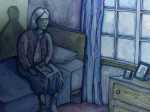 Ten residents slipped away from their retirement community one Sunday afternoon for a covert meeting in a cafe. They aimed to answer a taboo question: When they feel they have lived long enough, how can they carry out their own swift and peaceful death?
The problems in health care are far deeper than just knowledge about hospital charges that few will ever pay.
The American Psychoanalytic Association (APsaA) has apologized publicly for its previous classification of homosexuality as a mental illness, saying its mistakes contributed to discrimination and trauma.
As opioid addiction and deadly overdoses escalated into an epidemic across the U.S., thousands of surgeons continued to hand out far more pills than needed for postoperative pain relief.
As weed has become easier for people to get, it has also become a hazard for dogs.
Treating the cause of erectile dysfunction instead of just treating the symptoms has eluded many — until now.
A research project in Boston, called OpenNotes, encourages doctors to share their notes with patients. On the flip side, it invites patients to ask for access to their doctor's notes.
It's a compelling promise. After all, who could be against curing the nation's second-leading cause of death? If only it were that simple. Here are three reasons "let's cure cancer" is very easy for politicians to say but very hard to accomplish.
An alliance of large marijuana businesses had a message for the public Tuesday: We're good corporate citizens.
A former Oklahoma State Supreme Court justice will attempt to resolve a dispute over how to disburse an $85 million settlement of a state lawsuit with Teva Pharmaceuticals.
1 thru 10 of 7348 Stories