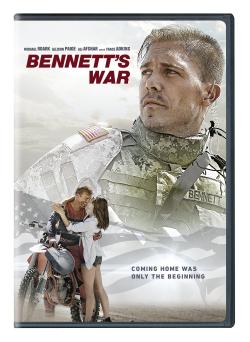 GET READY TO GATHER ROUND AND CHEER WHEN

Bennett's War

ARRIVES ONTO DVD AND DIGITAL FROM WARNER BROS. HOME ENTERTAINMENT

Own it Early on Digital on November 12

DVD debuts on December 3

"Bennett's War," starring country music superstar Trace Adkins and directed by Alex Ranarivelo, will be released by Warner Bros. Home Entertainment. The film stars Trace Adkins as Cal, the father of ex-soldier Marshall Bennett, played by Michael Roark ("Magic Mike," "Beauty and the Beast"), Allison Paige ("The Flash," TV's "The Lizzie Bennet Diaries") as Sophie, Bennett's wife, and Ali Afshar, ("American Wrestler: The Wizard," "Born to Race") as Cyrus, Marshall's friend and mentor.

After surviving an IED explosion in combat overseas, Marshall Bennett (Michael Roark), a young soldier in the Army Motorcycle Unit, is medically discharged and told that one more accident could mean he may never walk again. When he gets home to the family farm and his young wife (Allison Paige) and son, he discovers that his dad (Trace Adkins), is behind on the mortgage and may lose the farm. Against all odds, Bennett pledges to help his family by the only means he knows how...to get back on his bike and do what he does best.

This inspirational family and sports drama also features professional motocross riders with authentic racing from the Lucas Oil Pro Motocross Championship.

The DVD of "Bennett's War" will be available for purchase on December 3 and will feature the feature film in standard definition.

Fans can also own "Bennett's War" via purchase from digital retailers beginning November 12.

Enter to win!

Thanks for visiting EDGE!


Enter this contest
If you already have an account with EDGE, all you need to do is log in; we'll pull your address information from your account and simply ask you to verify it. If you do not yet have an account with us, register now! It's easy and free, and you'll never have to type in your personal information again. If you prefer to enter this information manually, you can use the manual entry link below.
Register
Click here for contest rules.
* Please be aware that creating multiple accounts for the same person will disqualify you.