Gay Boston: The Latest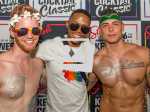 Key West celebrated Pride with the Stoli Kickoff party. There was also plenty more fun to be had at 801, Bourbon Street Pub and Aqua Nightclub.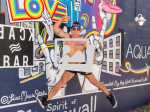 There certainly were some pool party shenanigans going on at Equator and Bourbon Street Pub during Key West Pride.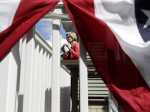 After receding from the national stage, the free college movement is resurfacing as a central rallying point for Democrats as they set their sights on the White House.
A former Southern Baptist pastor who supported legislation in Texas this year that would have criminalized abortions has been arrested on charges of child sex abuse.
The Los Angeles Police Department is gathering evidence and video footage in an administrative investigation into an off-duty officer who shot and killed a man who authorities say attacked him inside a Costco Wholesale warehouse store.
Candidates seeking to beat favorite Boris Johnson and become Britain's next prime minister warned Sunday that the Conservative Party needs a real leadership contest, not just a coronation for the flamboyant front-runner.
Prince Harry and Meghan, the Duchess of Sussex have released a photograph of their 6-week-old son Archie for Father's Day.
A swastika has been found in a Jackson County cemetery where World War II soldiers are buried.
"Men in Black: International" is the No. 1 movie in North America this weekend but the Tessa Thompson and Chris Hemsworth-led reboot isn't exactly a franchise-revitalizing hit.
Democratic presidential candidate Pete Buttigieg (BOO'-tuh-juhj) wants to start a family with his husband, Chasten, and says that could happen if he's in the White House.
India's recent national election delivered a historic victory to Prime Minister Narendra Modi's Hindu nationalist party, but also exposed the influence of money, power and questionable morality on the world's largest democracy.
Boston, MA
"The Count of Monte Cristo" follows in the tradition of the great literary classics, presenting a deeply flawed protagonist who is seeking vindication.
When Ramin escapes Iran where is persecuted for being gay, he ends up in Veracruz — where he still feels he cannot be himself.
New Mexico's film industry appears to be on the brink of a boom thanks to abortion law controversies in other states and expanded incentives.
The battle to contain the worst U.S. measles outbreak in 27 years has a new front: summer camp.
Tens of thousands of Americans each year are dropped by their insurers over payment issues, sometimes with little or no prior warning from their insurers.
Ford has opened a research center in Israel, joining a legion of major automakers racing to develop new technologies for the world of driverless cars.
The fast-growing market for meat alternatives has a surprising new player: Tyson Foods.
New York eliminated the religious exemption to vaccine requirements for schoolchildren Thursday, as the nation's worst measles outbreak in decades prompts states to reconsider giving parents ways to opt out of immunization rules.
A posh Northern California hotel was ordered to pay $1.6 million in penalties Thursday for failing to provide public access to its nearby beaches.

DC natives Lionize opened a packed show for with Wolfmother all the way from Australia for this East Coast tour show at the 9:30 Club.