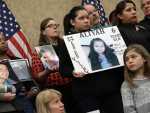 The father of a victim of the Sandy Hook Elementary School massacre has won a defamation lawsuit against the authors of a book that claimed the shooting never happened.
President Donald Trump is threatening to remove millions of people living in the country illegally on the eve of formally announcing his re-election bid.
The world's biggest pizza company is teaming up with Nuro, a Silicon Valley startup that makes unmanned delivery vehicles.
Diplomats and climate experts gathered Monday in Germany for U.N.-hosted talks on climate change amid growing public pressure for governments to act faster against global warming.
Boston, MA
The Provincetown International Film Festival (PIFF) has announced the award winners of this year's festival. Here's the full list.
Intermittent fasting is a method of dieting that restricts the amount of time you are allowed to eat. The appeal of these diets is that you don't need to count calories or eat certain foods. But there are so many versions, it's hard to know which is best.
Vegan bacon, broccoli rice and other veggie foods will need new names to stay on Louisiana's grocery store shelves next year.
Transportation Security Administration screeners at Newark Liberty International Airport discovered six smoke grenades in a passenger's carry-on bag as he attempted to board a flight to the Dominican Republic.
Israel Folau might have wrecked his sports career with repeated instances of anti-LGBTQ rhetoric, but he might have a nascent career as a homophobic preacher already underway if his latest blast from the pulpit at LGBTQs is any indication.
As he mounts his bid for reelection, Trump is offering himself as the outsider once again — but it's a much more awkward pitch to make from inside the Oval Office.