Under the Affordable Care Act, nonprofit hospitals are required to provide free or discounted care to patients of meager incomes — or risk losing their tax-exempt status. These price breaks can help people avoid financial catastrophe.
the new numbers suggest that fears of the Trump administration's immigration crackdown may be a significant factor in the slippage.
Emory University medical fellow Dr. Nicole Herbst was shocked when she saw three patients who came in with abnormal results from chest CT scans they had bought on Groupon.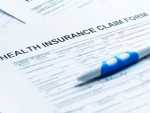 While many Capitol Hill Republicans want to avoid a repeat of the Affordable Care Act repeal debate, President Donald Trump keeps promising a health plan that will be "phenomenal" and make the GOP "the party of health care."
What I learned, besides fascinating facts about rabies, its transmission and the horrible ways one can die from it, was that any one of us is a mere cat scratch away from financial peril if we aren't lucky enough to have good health insurance.
In an area where average emergency room claims reached 842% of Medicare rates, residents of a Colorado county found relief by joining forces and negotiating prices directly with the local hospital.
Sen. Bernie Sanders and other progressives seeking the Democratic presidential nomination are zeroing in on pharmaceutical and insurer profits, money they say would be better spent providing health care for everyone under "Medicare for All."
Which of these Democrats can insure more Americans?
Kamala Harris released a health care proposal on Monday that sought to bridge the Democratic Party's disparate factions. Instead, she drew criticism from rivals across the political spectrum.
Joe Biden had just rolled out his health care plan when he made what could be a fateful pledge to a crowd in Iowa: "If you like your health care plan or your employer-based plan, you can keep it."