Gay Boston: The Latest
President Donald Trump tried to turn impeachment rancor into a political rallying cry Thursday, using a Texas rally to bash Democrats as "crazy" and unpatriotic as they push forward with their investigations.
Of the many ways the 37-year-old mayor of South Bend, Indiana, is different from his better-known rivals, there is this: His ingrained emotional restraint in a show-all-tell-all era.
"Western Stars" was just the change of pace that Bruce Springsteen needed after baring his soul over the past few years.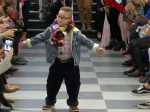 Though New York's Fashion Week wrapped more than a month ago, there was plenty of fierce fashion at the second annual "Gigi's Playhouse Fashion Show" on Wednesday, an event that allows young people with Down syndrome to share their talent.
The New York Times's popular "Modern Love" column is turned into an anthology series for Amazon, featuring big names like Anne Hathaway, Tina Fey, Dev Patel and more.
President Donald Trump's suggestion that his Miami golf resort host next year's Group of Seven summit became a reality Thursday, sparking an outcry from critics.
For years, Catalonia's separatist movement painstakingly built an amiable image of its quest to secede from Spain.
New York City lawmakers voted Thursday to close the notorious Rikers Island jail complex, which has become synonymous with violence and neglect, and replace it with four smaller jails.
The U.S. and Turkey agreed Thursday to a cease-fire in the Turks' deadly attacks on Kurdish fighters in northern Syria.
The White House acknowledged Thursday that President Donald Trump's decision to hold up military aid to Ukraine was linked to his demand that Kyiv investigate the Democratic National Committee and the 2016 U.S. presidential campaign.
A man accused of killing a woman who was seen strangled in videos on a digital memory card was charged Thursday with the death of another woman, authorities in Alaska said.
Boston, MA
Fresh Fruit is back, inappropriately funny and timely as ever. The satirical drag cabaret group that entertained Boston audiences for thirteen years in the early 2000s has returned to help us deal with the world in the age of Trump.
Placido Domingo will not receive a European cultural award this weekend in Vienna as previously announced.
China's economic growth sank to a 26-year low in the latest quarter amid pressure from a trade war with Washington, adding to a deepening slump that is weighing on global growth.
Scientists have discovered a mash-up of two feared disasters — hurricanes and earthquakes — and they're calling them "stormquakes."

Under the Affordable Care Act, nonprofit hospitals are required to provide free or discounted care to patients of meager incomes — or risk losing their tax-exempt status. These price breaks can help people avoid financial catastrophe.
On the picket lines at a General Motors transmission plant in Toledo, Ohio, passing cars honked and striking workers celebrated a tentative contract deal by munching on 10 pizzas dropped off by a supporter.

"Binging with Babish: 100 Recipes Recreated from Your Favorite Movies and TV Shows" offers edible inspiration from some of our favorite fictional characters.
Hospitals have become so overzealous in fall prevention that they are producing an "epidemic of immobility," experts say.
The Museum of Modern Art's new $450 million, 47,000-square-foot expansion offers visitors more than much-needed elbow room. It emphasizes new juxtapositions of works to encourage broader perspectives and new narratives.

Downtown Las Vegas celebrated its largest Pride yet, with a fabulous nighttime parade and a day and a half of festival fun.