Kelli O'Hara was devastated by the recent death of fellow Broadway veteran Marin Mazzie, so she decided to honor her friend quietly onstage as she performs one of Mazzie's old roles in the latest revival of "Kiss Me, Kate."
"Daddy" is surprising, provoking and unique. This bold work raises a multitude of complex psychosexual questions, and answers none.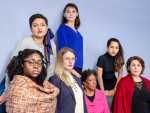 Boston, MA
Multimedia theatre company Sleeping Weazel has always pushed the boundaries on Boston stages. Now they have our thoughtlessly sexist culture in their sites, and they aren't holding back. Their weapons? Voices of experience. Fearlessness. And "Audacity."
Boston, MA
"Sophia's Choice: A Lost Golden Girls Episode" is a smart take-off rooted in good old-fashioned bitchiness and '80s nostalgia delivered by a delightful cast.
Boston, MA
Broadway In Boston, Boston's mainstage for Broadway, has unveiled the upcoming 2019-2020 Lexus Broadway Season during its annual announcement event at the Citizens Bank Opera House.
Boston, MA
Currently, the Huntington Theatre Company is presenting Shakespeare's classic in a stylish updated production which succeeds on a many levels, but falls short in others.
Boston, MA
For actor Nile Scott Hawver playing Guy in the musical "Once" was a bucket list role. Currently playing the role at the SpeakEasy Stage's production, he can check it off his list. EDTE spoke to Hawver about the role, the musical & his photography.
Boston, MA
Whoever thinks vaudeville is completely dead should head over to the Emerson-Colonial Theatre where this revue-like entertainment continues through March 10.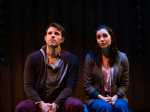 Boston, MA
Even if this production falls a bit short of what we have come to expect from Speakeasy, "Once" is a lovely little show with a great score. There is nothing challenging or controversial about it. It is just a pleasant evening of theater.
Two playwrights have positioned lesbian and female characters front and center, nudging queer storytelling's white cisgender male dominance out of the spotlight.