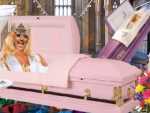 Fresh Fruit, Boston's outrageous drag troupe, are back with a new revue and new members. EDGE spoke with Michael Gaucher, who is spearheading the new show that starts this week at Club Café, about just how they keep the Fruits fresh.
Josh Groban has a date for Valentine's Day — with 6,000 or so of his fans.
"The Silence in Harrow House" is not only a wonderfully creepy kick-off to the Halloween season, it's a highly successful collaboration among artists of a number of different stripes, & an intelligently executed movable theater experience.
Boston, MA
For all that's good about the production, there's something disingenuous about "The Book Club Play."
Boston, MA
Does Julie Taymor's masterpiece "The Lion King" still hold up after twenty plus years? Yes, but for very different reasons.
Boston, MA
"Escape to Margaritaville" is not going to win a Tony, but it's a great excuse to leave the house as it gets colder and dream of a tropical paradise, even for just a few hours.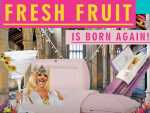 Boston, MA
Fresh Fruit returns to the stage in "Fresh Fruit Is Born Again!" from October 11 to November 23 on selected dates.
Boston, MA
Greater Boston Stage Company has an eclectic smorgasbord of offerings lined up for its 20th anniversary season - and Producing Artistic Director Weylin Symes fills EDGE in on the common threads that tie the season's shows together.
Ready for something sweet and crunchy? Martha Graham Cracker is coming to town - and she's bringing her cabaret act to the American Repertory Theater's Afterglow at Oberon series.
Opening its 10th year worldwide, "Passengers" by the 7 Fingers production studio made its US debut this month as part of a partnership with ArtsEmerson. The multi-acrobatic performance captivated the Cutler Majestic Theater in its opening week.