Boston, MA
it's certainly anyone's guess whether "Love and Other Fables" will succeed on Broadway; but this cast keeps it fresh and funny to the very last song.
When effervescent actress Ali Stroker came onstage to accept her historic trophy as the first actor in a wheelchair to win a Tony, it wasn't just the feel-good moment of the night. It may have been one of the most joyous Tony moments in years.
James Corden, host of "The Late Late Show With James Corden" and a Tony winner in his own right, will be the host of the telecast. He previously hosted in 2016, when "Hamilton" was the juggernaut.
She's the Goddess of Pop, and now Midtown Manhattan's Sofitel New York is transforming one of its luxury suites into a show-stopping Cher Show Suite just steps from WorldPride 2019 festivities.
EDGE sat down with the creatives, as well as two of the lead actors, involved in "Camp Morning Wood" about the new queer, naked narrative musical.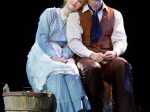 Boston, MA
One of the greatest American musicals, Rodgers and Hammerstein's "Oklahoma!," returns to the North Shore Music Theatre for the first time in more than 25 years, but it proved to be a lackluster opening to the theater's promising musical season.
On the ninth floor of the Madame Tussauds building in New York, they've built a little piece of Broadway.
Boston, MA
"The View UpStairs" is an example of good intentions not being enough. Yes, we need to remember those lost on that night in 1973. But their memories deserve better.
On the occasion of the 200th anniversary of the much lauded homo poet Walt Whitman's birth, a group of Philly queers and misfits known as The Bearded Ladies Cabaret gathers to put this ancestor and his legacy on trial.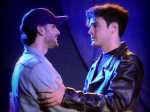 Given the dearth of gay plays opening this month, marking the 50th anniversary of Stonewall, Siegmund Fuch's affecting and moving, "In the Closet," about the importance of accepting and loving oneself—warts and all—lands at just the right time.