Waitress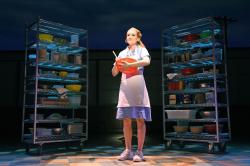 Reworking a film into a Broadway musical can be a slippery slope, but Diane Paulus and indie pop sensation Sara Bareilles collaborated on a solid musical adaptation of Adrienne Shelly's indie hit "Waitress," first in Cambridge (at Paulus's American Repertory Theater), then Broadway and London, where the productions are both running. With a pedigree like that, their musical lands in Providence to delight and amuse.

Jenna (Christine Dwyer) is stuck in a loveless, abusive marriage with Earl (Jeremy Woodard), and her only happy outlet is working at a diner where she waits tables - but, most importantly, she creates pies. Her mom used to teach her everything about baking, and her colorful coworkers Becky (Melody A. Betts) and Dawn (Ephie Aardema) have definitely got her back while she's at work. Speaking of work, it's a colorful place on its own, with a gruff cook Cal (Ryan G. Dunkin) and fussy customer Joe (Richard Kline), but Jenna has to give up all her tips to Earl at the end of the day.

When she discovers that she's having a baby, Jenna heads to her regular doctor only to discover that she's retired and has been replaced by dreamy Doctor Pomatter (Steven Good). Complicating matters, they start an affair despite the fact they're both married. "Waitress" is at its most charming with the light comedic stuff, but it's got some depth as well, mixing it up with some dramatic moments in the second half. The fun is watching Jenna's journey with her friends in tow, notably Aardema as Dawn, a goofy gal who's also looking for love and finding it with a equally goofy guy Ogie (Jeremy Morse), who nearly steals the show with his antics.

This polished tour has some really tight choreography as well, and hearkens back to a simpler time in musicals history. The ballet with condiments, flour and sugar and baking pies is woven through the story, and is a visual treat. Dwyer is absolutely charming as the gal looking for her own happiness. Brash Becky, as played by Betts, brings most of the comedy and Kline, who played the womanizing neighbor Larry in the '70s TV classic "Three's Company," is a solid Joe. Good has the charm to play the handsome but neurotic doctor, and Dunkin is the typical grouchy cook with his eyes on one of our waitresses.

There's something here for everyone, even those who aren't into a formulaic romantic comedy; it truly shines when there is some dramatic punch, and Jenna is someone we can all relate to. When she reveals her fragile nature "She Used to Be Mine," the audience is ready to cheer for her, and the waitress is someone that we've all known in our own experiences. The music by Grammy Award winning Bareilles is memorable, something that cannot be said for many modern musicals.


"Waitress" is running through June 2nd at the Providence Performing Arts Center (PPAC) 220 Weybosset Street, Providence, RI 02903. For information or tickets call 401-421-2878 or visit www.ppacri.org.
Comments on Facebook