Miss You Like Hell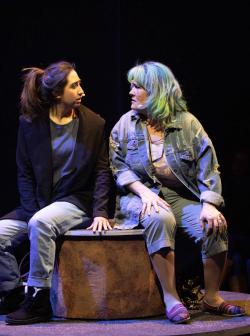 Company One and American Repertory Theater are joining forces on the New England premiere of a new musical, "Miss You Like Hell", with book and lyrics by Pulitzer Prize winner Quiara Alegría Hudes and music and lyrics by Erin McKeown.

Set around a mother/daughter road trip across the US, it touches on a broad range of topics — immigration, depression, social media, sexual agency, and cultural acceptance just to name a few.

It's a tall order, too tall. The result is a rather fragmented and clunky musical trying too hard to be everything to all people. By necessity, the plots and characters remain superficial in order to cover it all.

Ms. McKeown's score only adds to this effect. By incorporating multiple American musical styles to underscore the road-trip aspect, the overall affect is disjointed. It is a show filled with musical non-sequiturs.

That said, the two women at the center of the show (Johanna Carlisle Zepeda and Krystal Hernandez) both give outstanding performances. They are equally matched in acting and singing abilities and they are the glue that really holds this show together. Ms. Hernandez provides the most successful and moving moment of the show with the title song towards the end.

One gets the sense that this is one of those shows that could be much more effective if just stripped to its bones — a mother and daughter in a car. The ensemble, for a large part, seems to only exist to fill out chords for much of the show anyway. There is a really interesting and engaging story here, but it feels like a work that's still in process.

"Miss You Like Hell" is not a bad evening of theater, but it is one that leaves you wanting more.

"Miss You Like Hell" continues through January 27 at Oberon, 2 Arrow Street, Cambridge, MA. For more information, the American Repertory Theater website.
Comments on Facebook