Love And Other Fables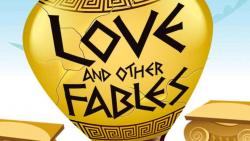 Aesop is a slave, not yet the famous guy he will be, and he doesn't mind being sold, just as long as he's sold to Xanthus and Catastrophe. You see they've got a slave named Lycaena, and Aesop's got his eye on her for marriage. She has her eye on someone taller, and more classically handsome, Philocalus. This is their journey from the island of Samos to fame and fortune.

With book and lyrics by Jay Jeffries and book and music by John McMahon, "Love and Other Fables" makes its world premiere at Theatre By The Sea in Wakefield. Originally produced as a concert in Chicago, this is the first stop on the way to Broadway. The plot is familiar: boy meets girl, girl doesn't like boy, etc.; but this very funny cast keeps it fresher than it could be. It has a very Sixties flair, and borrows from musicals like 'The Producers" and "A Funny Thing Happened On The Way to The Forum."

IF you're in the mood for slapstick comedy, this is your show with catchy music and some really fun lyrics... Two in particular -- "Song of the Assyrian Somnambulist" and "Only Unimportant Things" -- stand out by being clever, and Parker Esse's choreography shows that a new musical can be tight and flashy. Resident set designer Kyle Dixon never disappoints, and the sets aren't just colorful, they seem to have a life of their own. Director Jay Binder takes an already experienced cast and put them all through their paces with a fun script.

Both Landree Fleming (Lycaena), who hails from Chicago, and Brian Sears (Aesop), from Broadway, have the chops and voices to headline this show. Both are a delight to watch and hear. Veteran actor Brad Bellamy (Xanthus) has appeared in several television shows including "30 Rock" and "Law & Order SVU" brings considerable experience and a dry delivery to his role. Also from New York is Peter Saide (Philocalus) looking like a Greek god in his outfit but nailing the role with a goofy charm.

Alison Nubaum as Catastrophe returns to TBTS in a small but memorable turn. Some of the best moments come from Blake Hammond as King Croesus of Lydia, whose long list of Broadway credits give him command of the stage when he's on and quite fun to watch. Because the musical is familiar in execution, it's certainly anyone's guess whether "Love" will succeed on Broadway, but this cast keeps it fresh and funny to the very last song.

"Love And Other Fables" is running through June 16th at Theatre By The Sea, 364 Cards Pond Road, Wakefield, RI 02880. For information or tickets call 401-782-3800 or visit www.theatrebythesea.com.
Comments on Facebook