American Drag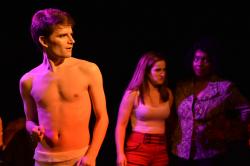 Epic Theatre Company's "American Drag" is playwright Kevin Broccoli's continuation of his highly popular "American Strippers," which paired up Greek goddesses and American folk heroes in a Texas strip club. We see some of the same characters and themes but with a different twist.
Most sequels either forget what made the originals so entertaining or they merely rehash what happened before. Broccoli avoids those pitfalls and as a result I found myself really enjoying "American Drag."
It's a sexier and funnier show with tighter storytelling and the exuberance of the performers makes for a highly entertaining theatrical experience.
"American Drag" features Greek gods Pan (a mesmerizing Angelique Dina) and Zeus (Becky Minard) on a quest to win a drag competition in Las Vegas. They travel across the country and collect their comrades along the way.
There are also encounters with poet Emily Dickinson (a sublime Nick D'Amico), who performs a sexy dance routine, and Amelia Earhart (Jason Karol), now in a relationship with Poseidon on a remote island off the coast of Maine.
Meanwhile, Ronald Reagan (Rebecca Maxfield) has many chats with Jesus (Carson Pavao) about the Greek gods and their plans. An entire show could've been made with these two characters just talking.
Broccoli, who also directed, generates winning performances from his actors.
Dina and Minard bring tremendous conviction to their characters and make them sympathetic in the face of adversity.
Betsy Rinaldi ("The Revolutionists") is a standout as the wisecracking Betsy Ross, who makes wry observations on the insanity unfolding all around her. Rinaldi's comic timing is impeccable.
Lee Rush Schwartz makes for a sassy Hades, who operates a waterfront gambling establishment in Florida. Schwartz's delight in playing this carefree hedonist is infectious.
Steph Rodger is wonderfully bitchy as famed fashion designer Coco Chanel, who tries to run roughshod over everyone.
Megan Ruggeiro is suitably malevolent as the villainous Eagle seeks to destroy the Gods and maybe the world.
This is all ridiculous, of course, but it's done with such style and verve you cheerfully go along for the ride.
"American Drag" pays loving tribute to Zeus, Eros, Ares, and their fellow gods while providing about half a dozen energetic dance routines (sharply choreographed by Carlos Caeser Gutierrez). Rinaldi smolders with raw sensuality while dancing to a Shania Twain song, "Man! I Feel Like a Woman."
The story ends on a note of joyous optimism, which is needed in these grim times. We can feel the exhilaration of love and hope triumphing over hate and division as the ensemble dances one last time.
After the actors have taken their bows, Broccoli throws in a surprise appearance from one of the characters in "American Strippers." I won't reveal their identity, but they promise to deliver more mayhem. The saga will continue and I can hardly wait to see what happens next.
"American Drag" runs through April 27. Epic Theatre Company. Artists Exchange - Theatre 82. 82 Rolfe Square, Cranston. For tickets, visit https://www.epictheatreri.org
Joe Siegel has written for a number of other GLBT publications, including In newsweekly and Options.
Comments on Facebook