#Me Three: A Guide to New Beginnings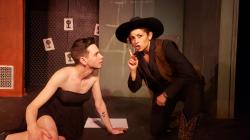 Writer/director Lenny Schwartz's "#Me Three: A Guide to New Beginnings" takes a satirical look at the #metoo movement.
Jamie Lyn Bagley plays Betty, a militant feminist who launches the "Me Three" movement in an attempt to rid the world of predatory men.
Betty hands out guns to her officers (Mindy Britto, Meg Taylor Roth, Lizita Depina) and orders them to apprehend a lech named Ralph (Dan Martin) who is prone to making crude sexual propositions.
The action then shifts to an island where Betty has been sent after being arrested by her minions. The island's ruler is the demented Queen Mary (Anastasia LaFrance), a terrifying woman who would fit in perfectly with the current presidential administration.
Michael Thurber ("The Inside of His Severed Head") has a bravura turn as Ronald Broadway, a horribly offensive misogynist who thinks women only exist for the entertainment of men. Broadway is so completely loathsome you will be eagerly waiting for him to get his comeuppance.
Derek Laurendeau ("Ditko") does solid work as Josh, who bonds with Betty in one of the show's best scenes. Josh laments how his career and reputation have been destroyed after an ex-girlfriend falsely accused him of abuse.
Josh believes some of the women who accuse men of sexual harassment are lying to get attention and sympathy. He thinks Betty and her Me Three supporters have started a war between men and women.
Betty reveals she was a rape victim herself and Bagley handles these moments with the right amount of gravitas.
We are introduced to Amy (Victoria Paradis) who tells Josh about being cheated on and abused by her boyfriend. There are also other characters, including a gay man, who walk on stage and share their stories. This is undeniably powerful to watch.
Schwartz then takes the story in a completely different direction when (spoiler alert) he has Betty and Josh inadvertently switch genders as they gradually fall in love. This results in some zany comedy.
The only problem is this takes too much focus away from the examination of the #metoo activists and the impact of sexual abuse allegations lodged against powerful men.
Schwartz, who also wrote "Accidental Incest" and "Ditko," inserts a lot of raunchy humor and pop culture references into the story, which distracts from the compelling central theme.
I wanted to know more about the Me Three women and how society regarded their activism. How did other women feel about them and their crusade against men? We never find out.
Schwartz is taking direct aim at the debased culture we're living in when he has one of his characters describe the United States as a "hate-filled nightmare."
I have little doubt that many people would agree with that sentiment and it is obvious we have a long way to go in addressing the epidemic of sexual abuse. Schwartz deserves praise for taking on such heated subject matter in "Me Three: A Guide to New Beginnings." Hopefully it will launch a serious discussion about the way men treat women in our country.
"#Me Three: A Guide to New Beginnings" runs through April 27. Presented by the Daydream Theatre Company. The RISE Playhouse. 142 Clinton St. Woonsocket. For tickets, visit www.ristage.org.
Joe Siegel has written for a number of other GLBT publications, including In newsweekly and Options.
Comments on Facebook