'Come From Away,' Mean Girls' Highlight Broadway in Boston 2019-2020 Season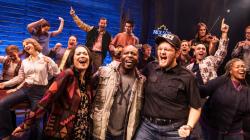 Broadway In Boston, Boston's mainstage for Broadway, has unveiled the upcoming 2019-2020 Lexus Broadway Season during its annual announcement event at the Citizens Bank Opera House.

Ten theatrical productions will take center stage at the Citizens Bank Opera House and the Emerson Colonial Theatre, an Ambassador Theatre Group venue, in the upcoming Season. Approximately 1000 people from around the city gathered for the annual celebration including Broadway In Boston's Season Ticket holders, group leaders, arts and business leaders, city officials, partners, sponsors and the Boston media. Highlights from the day included live performances from cast members of "The Band's Visit," "Mean Girls," "Anastasia" And "Summer: The Donna Summer Musical."

Broadway In Boston is proud to be Boston's leading theatrical presenter and producer of Broadway since 1984 and celebrates the more than six million theatergoers who have experienced over 300 Broadway In Boston productions in many of the city's historic theatres including the Citizens Bank Opera House, Emerson Colonial Theatre and The Wilbur Theatre. Over on Warrenton Street, at the Charles Playhouse, a Broadway In Boston venue, Blue Man Group and Shear Madness continue their impressive, long-standing Boston residencies.

"Our commitment to present programming that excites and entertains continues in the 2019/2020 Lexus Broadway In Boston Season as 10 of the most highly anticipated Broadway productions come to our historic stages," said Tivon Marcus, Vice President of Broadway In Boston. "This year we will see productions straight from Broadway, Best Musical Tony Award® winners, blockbusters and other titles that hit close to home. We can't wait for New England audiences to experience another Broadway Season as we celebrate our 35th anniversary."

The Citizens Bank Opera House will play host to seven of Broadway's biggest productions, direct from Broadway, in the upcoming Season, which will mark the 15th Anniversary of the restoration and reopening of the theatre. Fittingly so, Disney's "The Lion King," the inaugural production that welcomed New England audiences back to the Citizens Bank Opera House in 2004, will kick off the 2019-2020 Lexus Broadway In Boston Season. Coming to Boston this fall, "Come From Away" will take you into the heart of the remarkable true story of 7,000 stranded passengers and the small town in Newfoundland that welcomed them.

Kicking off the New Year is "Cats," the record-breaking musical spectacular by Andrew Lloyd Webber that has captivated audiences in over 30 countries and 15 languages and is now on tour across North America. It tells the story of one magical night when an extraordinary tribe of cats gathers for its annual ball to rejoice and decide which cat will be reborn. We're making fetch happen in 2020!

In "Mean Girls," Cady Heron may have grown up on an African savanna, but nothing prepared her for the vicious ways of her strange new home: Suburban Illinois. Direct from Broadway, "Mean Girls" is the hilarious hit musical from an award-winning creative team, including book writer Tina Fey ("30 Rock"), composer Jeff Richmond ("Unbreakable Kimmy Schmidt"), lyricist Nell Benjamin (Legally Blonde) and director Casey Nicholaw (The Book of Mormon).

Spend an evening in the company of unforgettable strangers at "The Band's Visit" —now one of the most celebrated musicals ever. It rejoices in the way music brings us to life, brings us to laughter, brings us to tears, and ultimately, brings us together. Inspired by the beloved films, "Anastasia" is the dazzling show that transports us from the twilight of the Russian Empire to the euphoria of Paris in the 1920s, as a brave young woman sets out to discover the mystery of her past. Pursued by a ruthless Soviet officer determined to silence her, Anya enlists the aid of a dashing con man and a lovable ex-aristocrat. Together, they embark on an epic adventure to help her find home, love, and family.

Closing out the 2019-2020 Lexus Broadway In Boston Season is "Summer: The Donna Summer Musical," the story of Boston's own, Donna Summer. She was a girl from Boston with a voice from heaven, who shot through the stars from gospel choir to dance floor diva. But what the world didn't know was how Donna Summer risked it all to break through barriers, becoming the icon of an era and the inspiration for every music diva who followed.

L'Chaim! Over on Boylston Street, Broadway In Boston's long and storied history at the Emerson Colonial Theatre continues with the new production of "Fiddler On The Roof," the heartwarming story of fathers and daughters, husbands and wives, and life, love and laughter, introducing a new generation to the uplifting celebration that raises its cup to joy! To love! To life! "Jersey Boys" is making its way back to Boston. It's the behind-the-music story of Frankie Valli and The Four Seasons. They were just four guys from Jersey, until they sang their very first note. They had a sound nobody had ever heard... and the radio just couldn't get enough. But while their harmonies were perfect on stage, off stage it was a very different story — a story that has made them an international sensation all over again.

"Chicago," now in its 23rd year, is set amidst the razzle dazzle decadence of the 1920s. It's the story of Roxie Hart, a housewife and nightclub dancer who maliciously murders her on the side lover after he threatens to walk out on her. Desperate to avoid conviction, she dupes the public, the media and her rival cellmate, Velma Kelly, by hiring Chicago's slickest criminal lawyer to transform her malicious crime into a barrage of sensational headlines, the likes of which might just as easily be ripped from today's tabloids.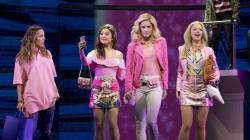 The 2019-2020 Lexus Broadway In Boston Season (in date order):

"Disney's The Lion King"
Citizens Bank Opera House
October 3 - 27, 2019

"Come From Away"
Citizens Bank Opera House
November 5 - 17, 2019

"Cats"
Citizens Bank Opera House
January 7 - 19, 2020

"Mean Girls"
Citizens Bank Opera House
January 28 - February 9, 2020

"Fiddler On The Roof"
Emerson Colonial Theatre
February 25 - March 8, 202

"Jersey Boys"
Emerson Colonial Theatre
March 18 - 22, 2020

"The Band's Visit"
Citizens Bank Opera House
March 24 - April 5, 2020

"Chicago"
Emerson Colonial Theatre
May 5 - 10, 2020

"Anastasia"
Citizens Bank Opera House
July 7 - 19, 2020

"Summer: The Donna Summer Musical"
Citizens Bank Opera House
August 4 - 16, 2020

For more information, visit the Broadway in Boston website.
Comments on Facebook