Small Mouth Sounds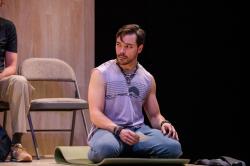 On paper, a play about a silent spiritual retreat does not seem like the making of riveting theater. However, Bess Wohl's play "Small Mouth Sounds" proves just how incorrect that assumption is.

Currently receiving its Boston premiere at Speakeasy Stage, "Small Mouth Sounds" is one of the most unexpectedly funny and human new plays in recent memory.

Returning to Boston from her new role as Artistic Director of the Kitchen Theater Company in Ithaca, director M. Bevin O'Gara proves why she was long one of the best directors in the Boston area. She has created a superb production that never stumbles and enthralls the audience throughout.

In the play, six people arrive to a weeklong spiritual retreat where talking is prohibited. They quickly develop non-verbal ways to communicate. Soon relationships are forged and histories revealed.

Most of the talking in this play is done by the disembodied voice of "The Teacher," performed in a delightfully affected way by Marianna Bassham. It is a fascinating theatrical twist — the audience never sees the person talking and the people they can see rarely speak.

As for the attendees (performed by Kerry A. Dowling, Celeste Oliva, Gigi Watson, Nael Nacer, Sam Simahk, Barlow Adamson), they manage to communicate volumes in their non-verbal interactions. Each and every actor provides a complex three dimensional person using little to no dialogue.

In 2015, when this play premiered in New York, it wound up on multiple "best of" lists. And it is easy to see why. It is both incredibly simple, yet infinitely complex.

Boston audiences should make time to catch this spectacular start to 2019.

"Small Mouth Sounds" continues through February 2 at the Roberts Studio Theatre, Calderwood Pavilion, Boston Center for the Arts, 527 Tremont Street, Boston, MA. For more information, visit the SpeakEasy Stage website.
Comments on Facebook