Stranger things are happening on "American Horror Story: 1984."
"Saturday Night Live" announced three new cast members, including an openly gay comic who became the show's first Asian American player, but videos from actor Shane Gillis' podcast have surfaced where he used Chinese slurs and made homophobic remarks.
Fans waiting for a "Girlfriends" reboot are getting a little tease: the cast of the early 2000s sitcom is reuniting on an episode of "black-ish."
Joe Biden is the Democratic front-runner. And there were moments in Thursday night's debate when he looked the part.
Democratic debate night No. 3: Attacks and counter-attacks. Love for one former president, loathing for the current one. A 76-year-old front-runner essentially got called old, and he turned around and called another rival a "socialist."
It was reported Thursday that "Saturday Night Live" will be getting three new players for its upcoming 45th season, including openly gay comic Bowen Yang, who is the long-running show's only Asian American performer.
The Democratic Party's strongest presidential contenders — according to polls and fundraising, at least — meet on the same debate stage for the first time Thursday night.
Despite the tens of millions of dollars raised, the Democratic primary has been remarkably static for months with Joe Biden leading in polls and Elizabeth Warren and Bernie Sanders vying to be the progressive alternative.
The fifth season of the beloved comedy series "Schitt's Creek" will appear on Netflix in October.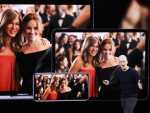 Apple is finally taking on Netflix with its own streaming television service and, uncharacteristically for the company, offering it at a bargain price — $5 a month beginning on Nov. 1.