'Practical Magic' Prequel in the Works for HBO Max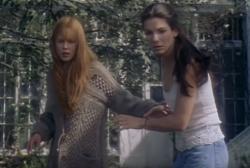 HBO Max, the new streaming service from Warner Media, has been announcing several projects, including a "Gossip Girl" reboot and a "Dune" spinoff. Now, the company is announcing a "Practical Magic" prequel series called "Rules of Magic."

Based on the novels by Alice Hoffman, "Practical Magic" is a 1998 film that stars Sandra Bullock, Nicole Kidman, Dianne Wiest and more. "Rules of Magic," also a novel by Hoffman, will follow three troubled siblings — Franny, Jet and Vincent Owens, in 1960s New York City, Variety reports. The trio bumps up against "abnormalities" that force them into isolation until they learn that they are defended by witches. The two sisters are the same characters who Bullock and Kidman played the beloved film but their brother "will leave an unexpected legacy."

"Rules of Magic" will be written by Melissa Rosenberg, who created "Jessica Jones" for Netflix. Dana Baratta will also write and Variety notes that a writer's room is coming together for a 10-episode order.

Revisit the "Practical Magic" trailer below.



Comments on Facebook