Watch: Gay 'American Idol' Contestant Blows Judges Away Again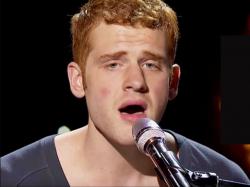 Jeremiah Lloyd Harmon wowed the "American Idol" judges earlier this month when he performed an original song about if he'd get into heaven because he's gay. And now the church janitor is blowing Katy Perry, Lionel Richie and Luke Bryan away for a second time.

"I have very little to go back to because I don't feel like me being openly gay and working at my dad's church is accepted, so I've decided to leave," he told the judges before launching into his cover of Carole King's 'Beautiful'.

Harmon's performance left Perry in tears and he progressed to the next round in Hollywood.

As TVLine notes, Jorgie, who came out as gay during his performance on "American Idol," did not make the cut.

Check out Harmon's performance below.
Comments on Facebook