1 thru 10 of 4476 Stories
Apple on Monday laid out the details of its news subscription service, Apple News Plus, at an event Monday.
Jeremiah Lloyd Harmon blew the "American Idol" judges away after wowing them with an original song about if he'd get into heaven or not because he's gay.
Ryan Murphy's first show for Netflix, the satirical comedy "The Politician," just got an extra dose of star power.
The second season of "Pose" just got a dose of star power.
For Sean Hannity, the "witch hunt" was finally over. Rachel Maddow considered it the start of something.
Ryan Murphy's first Netflix show "The Politician" gets a release date and synopsis.
ABC is giving "The Conners" another go.
David Letterman says he stuck around on network television about 10 years too long.
Good news and bad news for fans of "Schitt's Creek."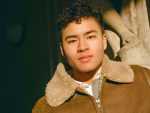 Marvel may still be looking for the actor who's going to play its first openly gay super-powered crime fighter, but DC has taken the step of hiring openly trans actor Chella Man for the role of bisexual superhero Jericho on "Titans."
1 thru 10 of 4476 Stories