On Tour: A Sensational Ben Platt Sings for Himself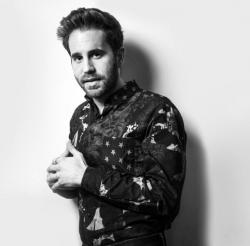 Ben Platt's debut solo album of original songs was released on March 29, just six weeks ago, and already the sold out mostly Millennial crowd at the 3500-seat Wang Theatre this past Wednesday knew the words to his songs and were singing along. This effervescent rock concert atmosphere isn't the usual ambience fashioned by a Broadway actor, but then Platt, who has thus far won a Tony, an Emmy, and a Grammy Award, isn't your usual Broadway actor. Born into a showbusiness family, his father Marc Platt is a producer of stage ("Wicked," "War Paint") and screen ("Into The Woods," "La La Land," "Mary Poppins Returns"), Platt has been a professional actor since he was 8, appearing first as a child actor in a regional production of "The Music Man" and a touring production of "Caroline, or Change;" then as a young adult on Broadway in "The Book of Mormon" and "Dear Evan Hansen." The latter show garnered him a Tony Award for Best Actor in a Musical in 2017 for his sensational performance at the tender age of 23, and for many of his fans defined his identity.

As exciting as this is, Platt, has spent his formative years playing somebody else, and felt that, at 25, it was time for him to be himself. His debut album, "Sing to Me Instead," is a collection of original songs tracing the arc of an amalgam of real relationships Platt has had in his young life both romantic and familial, with smart, honest and heartfelt lyrics, sung with unabashed honesty and transparency that both disarms and endears his listeners. In these songs he is specific enough to reveal personal truths and yet universal enough for his listeners to identify. He has felt that until now, his public identity has been molded by those of the characters he's played on stage. To counter that, he is promoting his recording with a national and international tour, which began in Chicago in early May. Boston is only his fourth stop on the tour, and it wouldn't be surprising to know that people in the Boston audience had come from Chicago to see the concert again.

It is no wonder. As concerts go, this is one of the most rewarding experiences an audience can have. Mix Platt's vulnerable storytelling and high energy aura with an electrifying band, awesome backup singers, some choreography thrown in for fun, and theatrical quality production values, and you have a captivating combination that is tough to beat. It's no wonder there are already groupies chasing his concerts from one city to the next. If there isn't already a term for it, there will be: Plattchasers.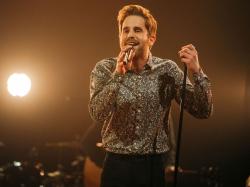 Still, if Platt fans had come to the concert expecting to hear Broadway show tunes, one look at the 7-piece band and the 3 back-up singers on what he called "an extraterrestrial living room set" would tell you that you were in for something different. But any initial disappointment would dissipate instantly the minute Platt took the stage. Looking relaxed in his jeans and white sneakers, Platt used his trademark geeky yet hip charm to lure us in, inviting us to sit beside him, figuratively speaking, as he shared his stories, both spoken and sung, about his turbulent yet rich emotional life. With his opening song, "Bad Habit," when he sits at the piano (which he plays very well) and sings plaintively "Can I lean on you?", we are in the palm of his hand. His songs, heavily influenced by Carole King, Adele, and Sam Smith, are an eclectic mix of romantic folk ballads, R&B, Gospel, and pop rock, that somehow hold together as a set through his strong narrative and his winning demeanor.

Platt is well known for his phenomenal tenor, which reaches into the stratosphere with exhilarating emotional intensity. And he used that liberally throughout his performance. But the real revelation here is his songwriting voice. Platt is a good songwriter. Really good. And with his theater training, he carefully set up each song, offering background into what events in his life and what universal emotions of love won, unrequited, or lost, inspired the lyrics, enabling us to plumb the depths of those emotions with him as he sang.

Some of the more poignant songs included several folk ballads. "Grow as we Go" has him pleading with a lover, who is halfway out the door, to stay, singing "You don't have to leave, if a change is what you need. You can grow right next to me." Moving to a stool he carried to the edge of the stage, out of the harbor of his band, with only a quiet guitar accompaniment, he sat under a pin spot and sang, perhaps, his most vulnerable song, "Hurt Me Once." Again, this is a heartrending plea to save a relationship on the rocks, with the final line either resolute or in denial, "I've decided on you." His lyric honesty manages to elicit gulps at the most unexpected moments.

Another moving song, first inspired by his love and admiration for his highly supportive father, "In Case You Don't Live Forever," took on a deeper resonance for him with the very recent death of his grandma. The song is about seizing the moment with your loved ones, being sure to tell them you love them, leaving us with the line, "I'm everything I am because of you." With unadorned directness, his heart-on-his-sleeve lyrics somehow manage to avoid being cloying, while gently tugging at the heartstrings.

Quite near the top of the show, Platt rather casually mentioned being "out." This prompted rousing cheers, hoots, hollers, and shouts of support from the audience, to which he gaily stood on his left foot, kicked his right foot back at the knee, tossed his head back, snapped his fingers and said, "Cheers to that!" This brought on his utterly charming story of how he came out to his parents at 12 while he was on a school trip to Israel. Trying to get ahead of his classmates who had figured out that he's gay and fearing his parents would find out through other channels, he called his parents to tell them himself. When his mother picked up the phone, she said: "Is this about your sexuality?" (She knew and she was supportive.) When his father got on the phone, he simply asked, "Are you being safe?" to which he replied, "Dad, I'm 12. I don't know what you're talking about!" All this was to set up his most revealing song, "Honest Man," where he reassures a still-closeted lover that he has nothing to fear with him. The most telling line is repeated throughout the song, "I am a safe place to land. I am an honest man." Such universal truths as these in Platt's lyrics still managed to resonate with an audience that was probably less than twenty percent LGBTQ.

Platt balanced these quieter more intimate moments with a number of upbeat, whimsical songs, so uplifting that the audience was roused into hand clapping and finger snapping. With songs like "Temporary Love," "Older," which is really about living in the now and not waiting for some indeterminate future, and one of his three covers (Elton John's "Take Me to the Pilot"), Platt stirred up some rhythm and blues, each one featuring his three backup singers in thrilling gospel arrangements. At one point, Platt even left the stage, allowing the backup singers to move front and center, taking their arrangements to even more stratospheric heights, to screaming ovations from the audience.

Typically, a program like this is more appropriate to smaller venues like nightclubs, cabarets or small theaters like the Wilber Theatre, Jordan Hall or Sanders Theatre. But Platt's show enlisted top drawer production values that seemed to visually amplify the proceedings while maintaining the show's critical intimacy. The set, a work of art by itself, created a space within a space, nestling the band, backup singers and Platt within a mid-century oval halo that helped ground them within the Wang Theatre's vast stage. The lighting design deserves an award for elegant yet impressive effects that worked with the mood, rhythm, and lyrics of each song. At one point three groups of bare light bulbs on simple stands dim and sparkle like starlight, pin spots from above-simulated moonlight, and a linear array of floor mounted uplights behind the set fanned out the rays of a rising sun. During another of Platt's covers, the transcendent Stevie Wonder song "Overjoyed," those same beams splayed open like a peacock tail just as the song reached its climax.

This carefully crafted and exuberant show marks the real coming out of Ben Platt, not as a gay man, but as a musical force to be reckoned with, and a songwriter with a fresh and honest voice. In these times where honesty is in scarce supply, Platt's message is a welcome salve for the soul.


Upcoming dates on Ben Platt and his "Sing to Me Instead" tour are Washington, DC (May 11); Philadelphia (May 12); and New York City (May 14). For the full list of upcoming dates and to learn more about Ben Platt, visit his website.
John Amodeo is a free lance writer living in the Boston streetcar suburb of Dorchester with his husband of 23 years. He has covered cabaret for Bay Windows and Theatermania.com, and is the Boston correspondent for Cabaret Scenes Magazine.
Comments on Facebook