The timeless 2002 Todd Haynes-directed melodrama "Far from Heaven" is available on Blu-ray from Kino Lorber with a release filled with special features.
The Tom Cruise-starring 1983 sex comedy "Losin' It" is now available on Blu-ray from Kino Lorber and their Studio Classics label. Your mileage with the film may vary.
The official trailer for "Toy Story 4" has been released by Disney's Pixar.
According to filmmaker David Lynch, all it takes are 70 ideas to make a feature film.
An autopsy says natural causes claimed the life of a North Carolina prosecutor found dead at home last year amid attention over "The Staircase" documentary series.
If you want to be trapped by confusion and boredom, feel free to see the appropriately titled "Captive State."
"Captain Marvel" has continued to dominate the global box office in its second weekend in theaters, leaving newcomers in the dust.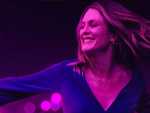 Pundits often complain that middle-aged American actresses don't get starring roles in films. With "Gloria Bell," Chilean director Sebastián Lelio remedies that with a terrific movie starring a luminous Julianne Moore.
Netflix will remove footage of a real fiery train disaster from its hit post-apocalyptic survival film "Bird Box" months after the streaming giant was criticized for exploiting a tragedy.
Months after being fired over old tweets, James Gunn has been rehired as director of "Guardians of the Galaxy Vol. 3."