In a way, "Hustlers" is a Robin Hood story in G-strings. The women are stealing from Wall Street men and giving to the poor — mainly themselves.
A word of warning for the uncut: You may walk into this film pristine of dermis... but you're going to want to correct that soon enough after drinking in this colorful, eccentric movie.
In his third dispatch, EDGE contributor C.J. Prince tackles some of the most-talked about films at the 2019 Toronto International Film Festival, including "Joker," "Waves," "Marriage Story" and more.
Antonio Banderas says his emotional state from having a heart attack a few years ago influenced his award-winning performance in the Pedro Almodóvar film, "Pain and Glory."
Director Cecil B. DeMille's 1942 seafaring epic "Reap the Wild Wind" is now available on Blu-ray in all its Technicolor glory from Kino Lorber. The film may not be DeMille's best, but it's a fascinating misfire for him.
Bill Moseley reunites with director Rob Zombie for the new horror film "3 From Hell," which will be shown for 3 days as a Fathom Event this month. EDGE spoke to the actor about horror films, his career & why the genre shouldn't be PC.
Hard as it may be to believe, "Harriet" is the first feature film about Harriet Tubman.
Renee Zellweger received a huge and overwhelming response to her role as Judy Garland in the upcoming biopic "Judy" when it debuted at the Toronto International Film Festival this week — so much so that it brought the Oscar winner to tears.
"Hustlers" is, in itself, a hustle.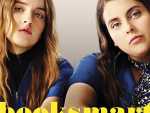 "Booksmart" is the best kind of high school comedy; overflowing with anxiety, humor, and an audacity that can only accompany the hubris of a seventeen-year-old.