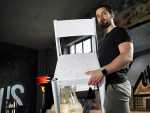 Gallerist Rossana Orlandi has curated an exhibition titled "RO Plastic — Master's Pieces" of original objects crafted from plastic trash by such luminaries as Australian designer Brodie Neill, Italian Piero Lissoni and Dutch designer Piet Hein Eek.
More than simply an iconic cathedral and jewel of Gothic architecture, Notre Dame was a treasure trove, housing priceless and irreplaceable marvels of immense religious, artistic, musical, historical and architectural value.
The vibrant colors and hues in Georgia O'Keeffe's paintings soon will be on full display for color-blind visitors.
A new exhibition in Berlin, 100 hundred years later, is questioning the perception that the era's political and economic disaster was inevitable and stressing the lasting impact of the Weimar Republic.
The exhibit titled, "Gender Bending Fashion," examines moments in history when clothing transcended and muddled our understanding of gender.
A colossal sculpture that will give people more than 150 interconnected stairways to climb is opening to the public as part of New York City's Hudson Yards development.
Megastar Michael Jackson's musical legacy has been getting critically reappraised after a new documentary rekindled allegations of child sexual abuse, but at least two music museums in Detroit and Tennessee aren't scrubbing the him from their exhibits.
A photo of a statue of a shirtless Abraham Lincoln is going viral, thanks to Twitter users who are not holding back their thirst for the depiction of the 16th president of the United States.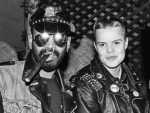 The GLBT Historical Society and Museum is presenting the exhibition 'SoMa Nights: The Queer Nightclub Photography Of Melissa Hawkins,' curated by photographer Hawkins and nightlife historian Marke B.
It seems Facebook can be friends with a topless Venus after all.