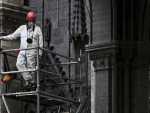 Specialists shoring up fire-damaged Notre Dame Cathedral were returning to the Paris site on Monday for the first time in nearly a month.
Breakfast, lunch and dinner at Burning Man is served with a side of playa dust that covers cars and clothing and finds its way into places where the sun doesn't shine.
Is Donald Trump good for the LGBTQ community? Log Cabin Republicans think so.
Fifty years after Woodstock, the mystical and messy event that gave birth to a myriad of musical festivals, the entertainment industry is diluted with festivals and events like it.
A New York man recently shared a text exchange he had with a man he met on Tinder and went out on a date. Their conversation is currently going viral on Twitter with some calling it a "horror film" and "true crime."
Verizon is selling Tumblr, a darling of early social media, to the owner of blogging platform WordPress.
Woodstock will be celebrated on its 50th anniversary, but it won't be your hippie uncle's trample-the-fences concert.
It was the weekend that shaped the image of a "Woodstock Generation." And that image would echo, appeal and provoke for generations to come.
Revulsion over the weekend's twin mass shootings and the nagging sense that it's all an inconclusive rerun has frustrated the news media and those who rely upon it — and triggered the stirrings of a new debate over how such tragedies should be covered.
Professional pearl-clutchers One Million Moms have resurfaced with a whole new slew of fact-free claims that demonstrate the depth of their biases. The reason this time? Whole Foods sponsored a Drag Time Story Hour in Atlanta.