In Instagram Post, Male Model Accuses Katy Perry of Sexual Misconduct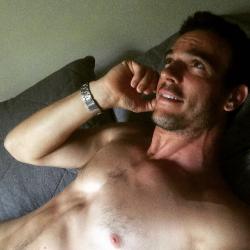 A male model who appeared alongside Katy Perry in her incredibly popular music video for her 2010 smash hit "Teenage Dream" is accusing the pop singer of sexual misconduct.
It's the ninth anniversary of Perry's album of the same name but Josh Kloss is taking the moment to come forward and accuse Perry of sexual misconduct, alleging she made inappropriate and nonconsensual contact with him during an event years ago.
Taking to Instagram, Kloss recalls the alleged incident.
"I saw Katy a couple times after her break up with Russel [sic]," he wrote of comedian Russell Brand. "This one time I brought a friend who was dying to meet her. It was Johnny Wujek's birthday party at moonlight roller way. And when I saw her, we hugged and she was still my crush.
"But as I turned to introduce my friend, [Katy] pulled my Adidas sweats and underwear out as far as she could to show a couple of her guy friends and the crowd around us my penis," Kloss wrote. "Can you imagine how pathetic and embarrassed i felt?"
He went on to say that he didn't speak out at the time because he needed to continue to work with Perry and needed the money. He also wrote that he was "lorded over by her reps about not discussing a single thing about anything regarding Katy publicly."
"And a couple interviews they edited and answered for me," he added.
Kloss said he also wanted to share his story to show that abuse of power can be wielded by both men and women.
"So, happy anniversary to one of the most confusing, assaulting, and belittling jobs I've ever done," Kloss wrote. "Yay #teenagedream."
Perry has not responded to Kloss's accusations.
Read his full post below and revisit "Teenage Dream" also below.
Comments on Facebook