Top Story
On a segment with "Good Morning Britain," Grammy Award-winning producer Mark Ronson revealed that he identifies as "sapiosexual."
For its 2019—2020 season, Promethean Theatre Ensemble (PTE) explores the status of women throughout history and within imagined societies, beginning with "Blue Stockings," the 2013 debut play from Jessica Swale.
In space, can someone hear you crack?
"Between Two Ferns: The Movie" is a feature-length struggle to be something that it never was, and as a result we lose the very thing that initially made it so interesting.
The film version of the beloved TV series is a comfy, charming lark, but doesn't add anything truly essential to the story and history of the characters we know and love.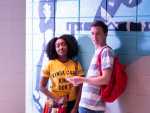 This may be a camp comedy, but it still reminds us how dangerous in the U.S. for people to embrace their sexuality.