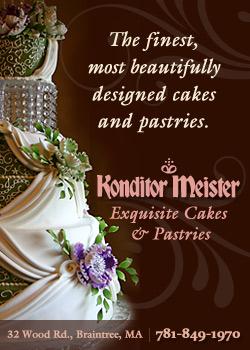 Konditor Meister
32 Wood Road
Braintree Massachusetts

Description
Welcome to Konditor Meister

Konditor Meister, an exquisite bakery that pays homage to the European traditions of pastry arts, and caters to those who desire only the finest and most beautifully designed cakes and pastries for every occasion. The success of Konditor Meister originates with chef and owner Günther Mösinger, whose superb talent and training has brought a sweet taste of Europe to New England.

Konditor Meister Günther Mösinger is a creative and passionate pastry chef with experience and education in a broad range of specialty baking, and he knew from an early age that his career would take a culinary path. He was born in the beautiful historic town of Freiburg in the Black Forest.

At 14 years of age, Günther started his education to become a Konditor Meister, which is a confectionary chef. After seven years of schooling and practice in the finest Hotels and Cafes in Freiburg, he earned his title.

In 1985, after only four years at the Ritz, he decided to set up shop in Quincy Massachusetts specializing in custom Wedding and all occasion cakes. Eventually he left the Ritz and put all his time and energy in his own shop that he named Konditor Meister. The business was so successful that he had to move to a bigger location after ten years.

At the new location in Braintree, business continued to go strong, and to this day, Günther works tirelessly to improve the quality and look of his cakes. He continues to impress old and new customers with new creations and flavors that are customized for their occasion. Over the years, the Strawberry Grand Marnier cake was established as Konditor Meister's signature cake, with the chocolate dipped strawberries.

Konditor Meister was nationally recognized by the Today Show and made Best of Boston and Best of the Knot in New England.

With over 40 years experience, Günther's commitment to doing things right is evident in every Konditor Meister cake. Today Konditor Meister has 75 employees and a huge facility in Braintree, Massachusetts.