1 thru 10 of 3975 Stories
Consumers' grasp of credit is the lowest it's been in eight years, according to an annual survey by credit scoring company VantageScore and the Consumer Federation of America, a nonprofit association of consumer groups.
Federal prosecutors in Manhattan have remained tight-lipped about their rationale for charging only Michael Cohen, Trump's former attorney and fixer, in a hush-money scandal in which they publicly implicated the president.
House Democrats approved legislation Thursday to raise the federal minimum wage for the first time in a decade, to $15 an hour, transforming an issue that once splintered the party into a benchmark for the 2020 election.
President Donald Trump is misrepresenting the facts when he says the rising stock market has largely benefited working-class Americans.
White House hopeful Elizabeth Warren is proposing new regulations on the private equity industry, pitching constraints designed to end what she decries as "legalized looting" by investment firms that take over troubled companies.
Low-paid childcare workers from around the world could soon learn whether they will be getting payments from a proposed $65.5 million class action settlement.
Democratic presidential candidate Bernie Sanders all but guaranteed in his "Medicare for All" speech on Wednesday the U.S. would spend less on health care with his plan. Here's a look at his claim and the facts.
Facebook's ambitious plan to create a financial eco-system based on a digital currency faces questions from lawmakers, as it's shadowed by negative comments from President Donald Trump, his treasury secretary and the head of the Federal Reserve.
This year is on pace to be one of the hottest on record, again, and the trend may only accelerate as President Donald Trump loosens policies meant to combat climate change. But some investors are attuned to the dangers.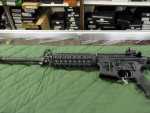 Dozens of Christchurch gun owners on Saturday handed over their weapons in exchange for money, in the first of more than 250 planned buyback events around New Zealand after the government outlawed many types of semi-automatics.
1 thru 10 of 3975 Stories