Buttigieg Unfazed by Anti-LGBTQ Hecklers in Iowa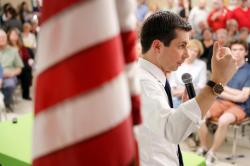 They came from out of state to shout about Sodom and Gomorrah, two mythical cities that Christians believe God destroyed because of homosexual relationships. They were seemingly led by an anti-abortion activist so radical that remarks he once made appearing to condone the assassination of a doctor reportedly contributed a rift between himself and the anti-abortion organization he founded in 1986.
But openly gay 2020 hopeful Pete Buttigieg, in Iowa to address prospective voters, was undeterred and undistracted from his signature themes: Unity, for one, and the way his devout Christian beliefs easily co-exist with his sexuality, for another.
The small band of hecklers struck at two different Iowa events where Buttigieg spoke, reported CNN. At one event, a man tried to interrupt with the claim that Buttigieg "is misleading our children." The crowd of Buttigieg supporters drowned the hate speech out, and the man was escorted away from the event, CNN reported.
At a later event, Randall Terry — the founder and onetime leader of Operation Rescue, from which he split nearly two decades ago, and who infamously declared that the 2009 assassination of Kansas abortion provider George Tiller "has the potential to propel us more quickly to our goal" — told the media that he intended to pursue Buttigieg, USA Today reported.
"My goal is to wake up the Christians who are still voting Democrat and to say to them to put loyalty to God and the babies first," the USA Today story quoted Terry as saying.
Terry was among the hecklers who shouted at Buttigieg about Sodom and Gomorrah, media accounts said. According to the biblical story, God destroyed the cities after angels he had sent there were greeted with hostility. Although Christians hold the story up as an example of divine punishment for non-straight sexual activity, others see the tale as a morality fable about the price for violating traditions of hospitality in the ancient world.
Those who chanted about the two mythical cities were drowned out by the crowd's roars of approval for Buttigieg and his message, media sources said.
CNN reported that Buttigieg seemed to acknowledge the heckling, saying that he would have wanted "to have those kinds of debates in a respectful format, versus through interruption," but adding that "a president is going to have to deal with tougher things than being interrupted in a speech."
Buttigieg, who is the mayor of South Bend, Indiana, has recently taken on the former governor of that state — and the current Vice President — by insisting that he honors freedom of religion, but sees a need for civility in allowing all citizens to be who they are, with room in discourse and national life for both personal beliefs and equal protection for everyone under the law.
Mayor Pete, as Buttigieg is known, makes no secret of his own Christian beliefs, and has pointedly testified about the spiritual dimensions of his marriage. Speaking earlier this month about his husband, Buttigieg declared, "My marriage to Chasten has made me a better man. And yes, Mr. Vice President, it has moved me closer to God."
"Speaking only for myself, I can tell you that if me being gay was a choice, it was a choice that was made far, far above my pay grade," Buttigieg went on to add. "And that's the thing I wish the Mike Pences of the world would understand," he continued. "If you've got a problem with who I am, your problem is not with me. Your quarrel, sir, is with my creator."
Pence responded by attempting to frame Buttigieg's remarks as an attack on Pence's faith, but Buttigieg easily brought the focus back to where he intended it to be.
"I'm not critical of his faith," Buttigieg said of Pence during an appearance on "Ellen." "I'm critical of bad policies. I don't have a problem with religion. I'm religious, too.
"I have a problem with religion being used as a justification to harm people and especially in the LGBTQ community," Buttigieg went on to say to the show's openly lesbian host, the comedian Ellen DeGeneres.
"I'm not interested in feuding with the vice president," Buttigieg added. "But if he wanted to clear this up he could come out today and say he's changed his mind, that it shouldn't be legal to discriminate against anybody in this country for who they are."
The candidate's ability to hew to his message despite homophobic heckling reflects his advice to Democrats as a whole to focus on the bigger political picture and not allow fruitless arguments with the Twitter-obsessed, insult-flinging current occupant of the Oval Office to distract them.
At the same time, however, Buttigieg is clear-eyed about the appeal that the current president's messaging had for his base.
"There are a lot of strategies to blame problems on people who look different or are of a different faith or even of a different sexuality or gender identity," Buttigieg said. "It's a cynical political strategy that works in the short term, but winds up weakening the whole country in the long term."
Kilian Melloy serves as EDGE Media Network's Assistant Arts Editor. He also reviews theater for WBUR. His professional memberships include the National Lesbian & Gay Journalists Association, the Boston Online Film Critics Association, The Gay and Lesbian Entertainment Critics Association, and the Boston Theater Critics Association's Elliot Norton Awards Committee.
Comments on Facebook