Watch: Mike Pence Finally Responds to Mayor Pete Buttigieg's Criticisms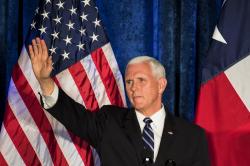 After his wife and spokeswoman responded to criticisms lodged against him from South Bend, Ind. Mayor Pete Buttigieg, Vice President Mike Pence is finally taking the time to respond himself.

Over the weekend, Buttigieg took aim at Pence during at an event with the Victory Fund in Washington, D.C.

"My marriage to Chasten has made me a better man," he said of his husband, who he married last year. "And yes, Mr. Vice President, it has moved me closer to God.

"Speaking only for myself, I can tell you that if me being gay was a choice, it was a choice that was made far, far above my pay grade," Buttigieg, who is rising among the 2020 Democratic candidates vying to run for president, also said.

Later, the mayor fired off a tweet that didn't directly mention Pence, who served as Indiana's governor before becoming vice president to Donald Trump but alluded to him.





On Wednesday, Pence appeared on CNBC and spoke with Joe Kernen about Buttigieg's remarks about his sexuality and faith. Kernen asked Pence if he thought it was OK for the mayor "to make you the boogeyman?"

"I worked very closely with Mayor Pete when I was governor of the state of Indiana. We had a great working relationship," he said. "He said some things that are critical of my Christian faith and of me personally. He knows better. He knows me.

"I get it," Pence went on to say. "They got 19 people running for president on that side in a party that's sliding off to the left and they're all competing with one another for how much more liberal they can be."

The vice president was then asked if his views on marriage equality have changed. Pence has a record of supporting anti-LGBTQ causes and signed a religious freedom measure into law while governor of Indiana that critics said would allow businesses to openly discriminate against LGBTQ people.

"The Supreme Court has made their decision. When I was governor of Indiana we fully implemented that decision in the law," Pence said. "My Christian values, my family and I have a view of marriage that's informed by our faith and we stand by that but that doesn't mean we're critical of anyone else who has a different point of view."

Pence's comments come after his spokeswoman Alyssa Farah took to Twitter to comment on Buttigieg's remarks.





Not long after that, Pence's wife Karen Pence defended her husband against the mayor's same comments.

"They've always had a great relationship," she said on Brian Kilmeade's Fox News radio show Tuesday. "It's funny because I don't think the vice president does have a problem with him, but I think it's helping Pete to get some notoriety by saying that about the vice president."

"I'm just like, 'Pete, did you not like that,' because that's what the vice president said about him," she added. "So what's the problem with that?"

Watch Pence's CNBC interview below.
Comments on Facebook