Mayor Pete's Husband Chasten Rose Above Family Rejection, Homelessness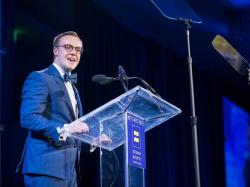 Chasten Buttigieg, the husband of Democratic 2020 hopeful "Mayor Pete" Buttigieg, could find himself in the White House one day, but he's already been where too many LGBTQ youths have found themselves: Homeless and rejected by their own families, according to a recent profile piece in the Washington Post.
Now, of course, it's a much different story. As Business Insider reported, Chasten's wit and warmth now mean that he is "winning the 2020 spouse primary."
Then there's the way the Indianapolis Star described Chasten, whose husband is the mayor of South Bend, Indiana: "From his advocacy to his popularity on social media, Chasten Buttigieg's presence on the campaign trail has been called a boon to Mayor Pete's rising poll numbers and donation dollars."
Not unlike his husband Pete did in one his own interviews, Chasten described to the Post a time when he was "itching and clawing to try to change whatever brain chemistry was making me the way I was." Like Pete, Chasten eventually came to terms with the unchangeable fact of who he is and began to live authentically — though in high school he had to brave harassment and bullying. One friend, he recalled, told him he should reconsider his sexuality, the profile reported. "Like it was a choice," Chasten recounted.
His family's reaction was likewise less than supportive; Chasten recalled his mother in tears, wondering whether he was "sick." ("I think she meant, like, did I have AIDS?" he said.) His brothers were hostile to the idea of having a gay sibling. Eventually, "I felt like I just could not be there.
"So I left."
After a period of homelessness during college, sleeping in his car or at the homes of friends, Chasten's mother asked him to return home, the Post story said. Eventually, Chasten and his parents reconciled, but it was a different story between Chasten and his brothers, the eldest of whom, Rhyan Glezman, is now a pastor.
"I want the best for him," Rhyan Glezman told the Post, before resorting to the standard trope of Christians for whom gays seem to have no place: "I just don't support the gay lifestyle."
For Chasten, that came to include falling in love and getting married — just like countless heterosexuals do, all without it being derisively termed a "lifestyle" or a "choice." And while Pete makes a point of the fact that he's a Millennial candidate, the way the two met has a decidedly 21st Century twist: They met on a dating app, as so many now-happily coupled heterosexuals have. The name of the app that brought them together? Hinge.
Who knows but that, in time, Chasten's "lifestyle" won't also include being an icon for America's LGBTQ youth — and that of the world — to see, and from which to take hope.
Actually, that's already more or less where Chasten — like Mayor Pete — is already at. The article took note of the support, and the thanks, that Chasten has received from Americans on the campaign trail.
Chasten takes the role of role model seriously: "It's just so important to go out there and do a good job right now," he told the Post, saying that "for the first time in many people's lives, they see someone on a national scale that makes them say, 'Oh, that's me, too.' "
Kilian Melloy serves as EDGE Media Network's Assistant Arts Editor. He also reviews theater for WBUR. His professional memberships include the National Lesbian & Gay Journalists Association, the Boston Online Film Critics Association, The Gay and Lesbian Entertainment Critics Association, and the Boston Theater Critics Association's Elliot Norton Awards Committee.
Comments on Facebook