Good Luck Chuck
Good Luck Chuck is the story of a man who is seen as a love good luck charm of sorts and finds that sex, even unlimited amounts of it, is just not enough. Back in 1985, young Charlie (Dane Cook) refuses to play Seven Minutes in Heaven at a party with a Goth girl named Anisha, who in turn places a curse on him: every single woman he sleeps with will break up with him and marry the next man she meets.
Cut to some 20 years later, Charlie is now a dentist working in the same building as his lecherous best friend Stu (Dan Fogler), and the so-called curse is just a memory. The two friends go to the wedding of one of Charlie's ex girlfriends, who thanks the curse for leading her to her husband. Thinking such a claim is absurd, Charlie, encouraged by Stu he decides to have some fun "disproving" the myth about him.
It's also at the wedding, Charlie meets his love interest, Cam (Jessica Alba), a beautiful woman who runs the penguin exhibit at the local aquarium and who also happens to be ridiculously accident prone. After Cam chips a tooth and Charlie helps her out, they start seeing each other.
Later, Stu informs Charlie that all (not just a few) of his exes got married to the next person they dated. This ramps up the tension for Charlie, who is falling hard for Cam, but he fears once they have sex, she'll find someone else. So Charlie does whatever he can to avoid actually seeing Cam, because she's ready for the next level of their relationship. Hijinx surrounding this plot line ensue.
Good Luck Chuck was a funny, romantic comedy that had plenty of raunchiness and slapstick combined with just the right amount of heart. Dane Cook, as always, was funny, and surprisingly also came across as lovable. At some point, Charlie comes to believe that he is a good luck charm and begins sleeping with tons of women as almost a public service. This gives way to a montage of sex, sex and more sex.
But when it comes to comedy, Dan Fogler almost steals the show as a man refusing to grow up, a personality to which many people can relate. A not-so-often-seen side of Jessica Alba also came through as she played a beautiful, clumsy woman quite convincingly. It was nice seeing her in a more relaxed role.
Good Luck Chuck comes in two versions: the regular edition contains commentary from director Mark Helfrich, producer Mike Karz, writer Josh Stolberg, and Dane Cook. Along with a featurette entitled All About the Penguins which discusses the choreography and CG work of the birds.
Good Luck Chuck the Unrated Edition contains the commentary and the aforementioned featurette, and loads more:
Polymastia: This featurette shows what went into creating a third breast for a payoff joke during the end credits.
Kama Sutra: A fun little featurette that expands upon Chuck's sex montage during the film, in addition to how cast and crew executed the gag.
Frank the Penguin Actor: A day in the life of the lead penguin performer.
Sex Matrix: Allows the viewer to watch any of Chuck's conquest in detail, since it's only a montage in the film itself.
Gag Reel: Your typical bloopers and crack-ups, but still funny nonetheless.
Deleted/Alternate Scenes: There are three, and you can clearly see why they were cut. One makes small changes to the ending; the second is just a too-long stoplight joke; and the final cut scene is just more camera fun with Cook and Alba.
Ad Libs: These round out the features and show unrehearsed joking around from Cook and Fogler.

Commentary: Director Mark Helfrich; Producer Mike Karz; Writer Josh Stolberg; Dane Cook

Featurettes:
All About the Penguins
Polymastia
Kama Sutra
Frank the Penguin Actor
Sex Matrix

Deleted/Alternate Scenes

Ad Libs
Good Luck Chuck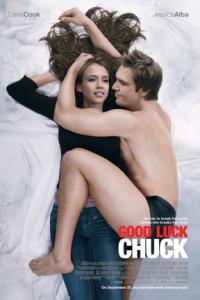 Info
Runtime :: 99 mins
Release Date :: Sep 21, 2007
Language :: English
Country :: United States

Robin Kavanagh is a freelance writer based in NJ. She has written for numerous publications, including The New York Times, Asbury Park Press, Bergen Record, Parenting magazine, The Aquarian, North Jersey Media Group, and Blogcritics.org among others.
Comments on Facebook