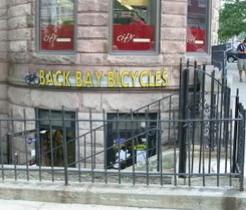 Back Bay Bicycles
362 Commonwealth Ave.
Boston Massachusetts 02115

Description
We've been outfitting Boston bicyclists at Back Bay Bicycles for the last 19 years and pedaling everything bikes at Papa Wheelies in Portsmouth, NH for the last 10 years. We cater to the needs of all cyclists, from kids and families to professional riders, the bicycle commuter, road racers, mountain bikers, triathletes and people who just love bikes.

We carry bicycles from Specialized, Cannondale, Torker, and Dahon, including products from Mavic, Zipp, Shimano, Chariot, Speedplay, Garmin, Assos, Exposure Lights, and VDO Cyclecomputers. Have a look through our Special Order catalog, if you can't find what your looking for online, give us a call and chat with one of our team members.

At both Back Bay Bicycles and Papa Wheelies, we focus on bikes and gear that we believe are the finest products on the planet! In addition to sales, our service departments are second to none, taking pride and care for your bicycles as if it were our very own. We can handle any repair large or small and also your custom bike builds, specialty wheel builds, suspension or disc brake service. You can also rent a bike for zipping around the streets of Boston or cruising through coastal Portsmouth. Rent one from us on your next trip! We have certified BG Fit staff on hand to fit you to any new bike or fine tune your position on your current ride.

Stop on in for a visit, try out a fancy new bicycle, or join us for a group ride. We'll see you soon and always Ride More, Diet Less!