South Florida Gay News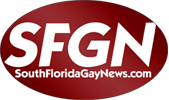 The South Florida Gay News.com celebrates the lives of South Floridians with daily news briefs and storied features, breaking news and lifestyle profiles. Check out their website at southfloridagaynews.com.
Kelly Schneider, 23, was sentenced on April 27 in U.S. District Court. He was prosecuted by the Justice Department's Civil Rights Division.
In addition to the world premiere of his new play, "Happy Ending," this weekend, Ronnie Larson is launching the "Totally Naked Comedy Tour" at Empire Stage on Monday, May 8.
The number of cities in South Florida that still allow the practice of conversion therapy on minors is dwindling - yesterday one more city commission unanimously decided to ban the practice within city limits.
"They tell parents to kill their child," the man told FRANCE 24, choosing to remain anonymous in fear of his safety. "They say, 'Either you do it or we will.' They call it, 'Cleaning your honor with blood.' "
Craig Jungwirth, the man who was accused of threatening Wilton Manors with a Pulse-style attack, locked himself in a bathroom in a Broward County courthouse on Thursday to avoid being served with a lawsuit.
Developers are working toward creating a "pink economy," a business model that caters to the LGBT community. The market for LGBT content is growing, and businesses are scrambling to secure their place in the new territory.
Grindr has begun helping gay men in Chechnya by using the app's location services to update users who may be in danger. They have also provided Chechen users with news reports of the progressing situation.
When people think about social progression and equal rights, the video game industry is certainly not the first place considered to be a forefront of change - if it is even considered at all.
Despite pleas from local LGBT activists, Fort Lauderdale Mayor Jack Seiler is forging ahead with plans to attend an evangelical prayer breakfast this week. Focus on the Family Chief Executive Officer Jim Daly is one of the event's three featured speakers.
As a straight cisgender man, Carlos Aleman opened up from his Asian-inspired art and wondered what creations he could make to support the LGBT community. And that's how the "Androgynous" art series was born.