South Florida Gay News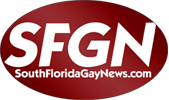 The South Florida Gay News.com celebrates the lives of South Floridians with daily news briefs and storied features, breaking news and lifestyle profiles. Check out their website at southfloridagaynews.com.
The Browns - the starring polygamist family of the show 'Sister Wives' - were in for a surprise when their daughter came out of the closet on last week's episode.
A federal judge ordered a Seattle man to work with AIDS patients and the poor for his role in threatening a former congressman.
"The desperate cries for financial assistance and low-income LGBT housing generally fall on deaf ears and I fear this means that today's LGBT seniors will die off before ground is broken for their new home."
If you're familiar with San Francisco's Castro District, you're likely familiar with Cleve Jones, an activist and HIV survivor who's been part of the community since the 1970s.
Adam McCabe, ex-professional soccer player, has revealed he is gay in a story shared with Meanwhiler. His goal was to help out people who are looking for advice, experience and guidance.
Okama Con, one of South Florida's only LGBT anime conventions, will hit the Miami Airport Convention Center on Saturday, Jan. 14.
Lambda Literary has just issued a proposed boycott of the forthcoming book "Dangerous" by the notoriously controversial Milo Yiannopolous.
The roster includes a reverend that accused Marvel's X-Men of making kids gay and an archbishop that claimed gay marriage will turn people Asian, among others.
The Park Service's designation of Stonewall Inn as a National Monument was part of an overall effort to broaden the nation's narrative. Incorporating stories from America's minority communities adds to the country's rich history.
Mic media has launched a new site, a database, interactive feature, and news feed examining the reported cases of violence against transgender people in the U.S. beginning in 2010.