No
Early on in Martin Scorsese's "Taxi Driver," we drop into a campaign office, overhearing a conversation between two worker bees played by Cybil Shephard and Albert Brooks. She's listing their candidate's many positive traits - his programs, his dedication to the community: "And I did not forget sexy." "Listen to what you're saying," Brooks retorts. "You're selling mouthwash." "We are selling mouthwash," she quips, knowingly. She (and Scorsese) knows that elections are more about sales pitches than actual politics; more about image than actuality. "No" is a film about a guy who realizes the same thing.

The year is 1988, and Chilean dictator General Pinochet can feel his time running out. Having seized control of the country through an American-supported coup 15 years prior; he's seen international pressure for a shift towards democracy grow exponentially since. His cabinet comes up with a plan: a run-off election, with citizens voting on whether he will retain control for 8 more years - YES - or give up his seat to a democratically elected official less than a year later - NO. He can't lose, they figure. The people wouldn't dare, they figure.
So for 27 days, each 'side' gets 15 television minutes to plead their case. And it's the first chance at free speech the anti-Pinochet community has ever had. To them, their loss is a given; and the opportunity to speak still a gift. They see in their 15 minutes a chance to make the silenced heard, to make the disappeared visible, to mourn for those murdered. The first YES promotional video is pseudo-Riefenstahl level propaganda stuff: glowing fields, political hymns, outsized hero worship. The first NO video we see are all statistics, facts, depictions of tragedies. Their side is showing the truth. And that's why they'd never win.

Enter the ruggedly handsome Rene (Gael Garcia Bernal), always looking winsome but wounded, a byproduct of a fallen-apart marriage (his ex-wife, much more of a political dissident than he), gives the film its only unnecessary subplot. Most of "No," which is shot on era-appropriate videotape complete with blurring colors by director Pablo Larrain, feels like a Costa-Gavres level procedural. But when it ducks into Rene's melodramatic home life, it feels more like "Argo.")
Anyway, our first sight of him comes when he's selling a boardroom on a recently completed project. This video shows Chile in the proper "social context," he promises. This video is the future, he promises. Then he shows them a soda commercial.

While his boss at the ad agency takes work for the YES campaign, Rene ends up with NO. The shallow fact of the matter is, their product is no fun. "This is a drag," he bitches, pouting like a child. But he sees something that the others don't. He doesn't think truth is the way to win this war. No, he sees a world where political candidates are sold like soda bottles; where advertisements for campaigns are as transparently artificial as an ad for a snack; where a catchy jingle set to 'Blue Danube' is more valuable than an eloquent speech from a respected public figure. In other words, he sees the future of political dialogue.

He's not even cynical, just realistic: he understands the real way we consume political content is out of the corner of our eye, while making a grilled cheese sandwich or something. So he denies it, but his approach is much more 'We Are the World' and MTV than it is C-SPAN. Many men are willing to tell him that what he's doing is despicable, and on a certain level, he seems to know it. But he's also fighting for the greater good.

Look at the way much of our (white) lower class still votes conservative, spurning their own interests so they can support some half-witted sense of being a 'real American.' (It doesn't matter if they're voting Republican because of the race war Fox News keeps warning them about, or because they want to keep their assault rifles, or because they want to make sure women aren't allowed to have control of their own bodies - the point stands all the same.) Conveniently aestheticized fiction is always more seductive than the truth, and when it comes to politics we always seem to fall for it (the majority of us, at least.) Rene was smart enough to realize that.
His music video and sketch-comedy influence NO campaign galvanizes the youth. It scares the regime enough that they try to respond with similar programming, making them look even worse. It finally gets people, who were previously so afraid of reprisals and so apathetic towards the future, to fight for NO. He understands what the average person wants. He takes serious commentary out of the election, replacing them with buzzwords and trashy commercials instead. He takes the politics out of politics. We've been following his example ever since.

Make no mistake; there's an inclusive, almost sports-movie-esque construction to the whole thing. But just below the surface lies something much more sinister. There's a moment, early in this film, where one activist gets a look at Rene's proposed videos. "This looks like a Coca-Cola commercial," he whines, and he goes on a tirade about the atrocities of the current regime, their moral responsibility of using their television time substantially, and his out-and-out disgust towards the entire production. Rene knows this is exactly what the average voter doesn't want to hear - and he's right. The disgusted man leaves, thinking he's distancing himself from a PR campaign that will lead to Chile's downfall. He was actually distancing himself from an entirely different downfall: that of political discourse.
No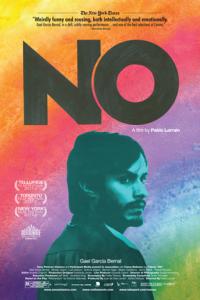 Info
Runtime :: 116 mins
Release Date :: Feb 08, 2013
Language :: Spanish
Country :: Chile

Comments on Facebook