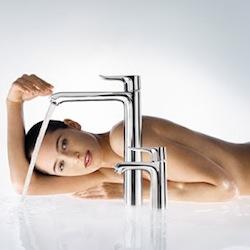 Designer Bath and Salem Plumbing Supply
97 River Street
Beverly Massachusetts 01915

Description
Awaken Your Imagination

THE DESIGNER BATH IS THE IDEAL SOLUTION to your kitchen and bath needs. Our spectacular 4,500 square foot showroom north of Boston has an array of products that are sure to inspire. But just having a dazzling showroom isn't enough to get the job done.

You'll need our talented group of associates to awaken your imagination to all the wonderful possibilities. Come find out what it means to be Best of Boston and the Best of the North Shore!

Be Inspired

THE KITCHEN AND BATHROOM HAVE EVOLVED. What was once a solely utilitarian space has transformed into the focal point of the home or one's own sanctuary.

At Designer Bath we start by having a showroom to delight the senses. At first glance you'll see sparkling chrome, bright whites, and fixtures glittering like jewelry. As you work with our associates the whirlwind of possibilities becomes concentrated into a palatable offering. A space that was merely a bath or kitchen begins to become so much more.

WHEN DESIGNER BATH MAKES THE CHOICE to offer our clients a certain product or product line we take many factors into consideration. We review the style and design of the product line. We consider the service and warranty that comes with the product. If we can't stand behind it, we won't offer it. Is the product available in a reasonable amount of time? At what price point is the offering? We work very hard to have all price points! Would I put it in my home? If the answer is no, we won't carry it! We're confident in the products we offer and have worked hard to bring you the best selection of products found anywhere in the world.