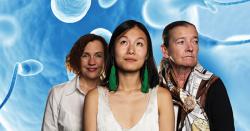 PRECIOUS LITTLE

March 2-26, 2017

A research linguist, Brodie, receives genetic testing results: her unborn child may never be able to learn a language. Her girlfriend's unsympathetic; her genetic counselor's a rookie; her own uncompromising intellect betrays her. Her search for guidance takes her to unexpected places. Three actresses play multiple roles - including a gorilla - in Madeleine George's irreverent exploration of one of our most fundamental questions: when does too much knowledge get in the way of our basic instincts?

https://www.centralsquaretheater.org

Enter to win!

Thanks for visiting EDGE!

Enter this contest
If you already have an account with EDGE, all you need to do is log in; we'll pull your address information from your account and simply ask you to verify it. If you do not yet have an account with us, register now! It's easy and free, and you'll never have to type in your personal information again. If you prefer to enter this information manually, you can use the manual entry link below.
Register
Manual Entry
Click here for contest rules.
* Please be aware that creating multiple accounts for the same person will disqualify you.