Magic Mike
Not as gritty as it should have been, nor as fun, Steven Soderberg's Magic Mike certainly has its pleasures, but the feel-good stripper movie of the summer it is not. Loosely based on the experiences of actor Channing Tatum, who worked as a stripper prior to his big break, "Mike" intends on giving us an inside look into the life of guys who please the ladies by grinding and thrusting on stage for bachelorette parties and horny women who haven't yet heard about "Fifty Shades of Grey." Instead, we get a surface look at the profession with some semi-flashy (and brief) dance numbers and a tale of "too much/too soon" that feels not only play-by-numbers, but not as much of a "downward spiral" as the filmmakers probably hoped.

Channing Tatum stars as Mike, a nighttime stripper with the hopes of starting his own business making furniture from junk. Having saved money for six years, he has bad credit so starting out has proved difficult. This keeps him working odd day jobs, one of which is as a roofer. There he meets slacker Adam (Alex Pettyfer "Beastly") who is crashing with his sister Brooke (Cody Horn, daughter of Warner Bros. President and COO Alan F. Horn) while he looks for work - something he clearly has no interest in doing.
However a chance run-in with Mike at a nightclub fast-forwards him to working backstage at an All-Male Revue owned by a cocky fella' named Dallas (the ever shirtless Matthew McConaughey). There, Adam meets the men of the stripper show: Big Dick Richie ("True Blood" stud Joe Manganiello), Ken (out-TV star Matt Bomer of "White Collar"), Tito ("CSI's" Adam Rodrigues), and Tarzan (former WWF star Kevin Nash). When a drug mishap occurs and Tarzan is incapacitated, Dallas suddenly has no one to go onstage in his place (really?) so Mike suggests they throw Adam onto stage to do an impromptu striptease for the ladies. If this weren't unlikely enough, Adam proves to be a success even though he does nothing but awkwardly take his clothes off and kiss a girl in the audience. Whallah! A star is born.

Mike takes Adam (now dubbed "The Kid") under his wing and the two become best buddies even though the two don't seem to have anything in common except they work at the same establishment. It matters not, because soon enough, Mike is flirting his Adam's big sister while juggling his faithful booty call Joanna (Olivia Munn.)
Meanwhile, Dallas intends on moving his show from Tampa to Miami with hopes of going global. (Even though there is nothing particularly special about the show itself.) As the film ambles along, Adam becomes too enmeshed in the partying side of the business and winds up selling Ecstasy for their DJ Tobias (Gabriel Iglesias) before running into some trouble at a sorority party. All the while, Mike tries to watch over his little ward.

In fact, there is a lot of lawbreaking in this movie. Underage workers, underage drinking, and drugs; as well as groping by audience members of the strippers that is against the law for stripping establishments. None of which is used as a plot device. Quite frankly, there isn't much of a plot. As in most Soderberg films, the story wanders a bit aimlessly before attempting to make a point.
At 100 minutes, the movie feels about twenty-minutes too long. Nothing totally surprising happens here -- it's about as "hard-hitting" as Tom Cruise's summer novelty film, "Cocktail." Which is the problem. "Magic Mike" is being advertised as this feel-good party movie that will appeal to the "Sex and the City" crowd (gals and gays), yet it's really just a dark-ish drama about trying to get out of career that isn't moving you forward.

The stripping scenes - so highly touted in the film's advertisements - become more or less montages with a few stand out moments. The nice part of the group numbers is that the dancing isn't perfect and the guys are quite frequently awkward and not in sync - which is realistic. But aside from some nice looking butts and a fake shadowed penis shot, this is about as salacious and sexy as a Gap ad. Sure, the boys are nice to look at, but it's not a movie where you hoot and catcall at the screen. It tries too hard to be a realistic look at the profession, but unfortunately the entire film feels like a studio dictate that read: "this is a summer movie, we want more dancing and ass shots. Can we just skip the drugs and death?"
As a result, the drug use, which keeps popping up and then is forgotten about, feels tacked on. In the first scene at the strip club all of the men take a capful of "G" before going on stage. Adam is told "it gets you drunk without all the alcohol." But aside from it being an excuse to incapacitate one dancer so Adam can be forced on stage, this "G" is never seen again and no one seems to have a real drug problem. In fact, the guys - including Mike - seem to be fairly well-balanced. Mike has a direction he's striving for and has managed to save over $13,000, so when we finally realize this movie is about him "leaving the life" to grow up, I felt like he wasn't so far gone to begin with. Adam seemed to be the one in trouble, so perhaps the movie should have been about him. But instead, it was left on Mike's shoulders.

Tatum has really developed into a likeable actor with great comic timing and a charming demeanor. He does his best with the tepid script and he can dance and grind his ass off. (Which, incidentally, should have had its own screen credit.) Pettyfer is appropriately moody and naïve; and with this film puts his two misfires ("Beastly" and "I Am Number Four") behind him. Perhaps this will be the film to make him the star studios had been hoping he would be. Horn is naturalistic as the Pettyfer's cautious sister, but she is a bit too smart and sporty that she has little chemistry with Tatum. They seem more like brother and sister.
Aside from McConaughey playing his narcissist bar owner with a cockiness that we know all too well, the rest of the cast is hopelessly underused. We never get to know anything about the other strippers, so it's a bit surprising that the casting of Manganiello and Bomer was big news. Manganiello had about three lines and thirty seconds of solo thrusting on stage. Otherwise, he tromps around behind the other guys getting lost in the flash and dazzle of naked torsos. Similarly, Bomer has one scene of focus involving a four-way we never even get to see. Bummer.

Don't get me wrong, "Magic Mike" isn't an awful film, but it is not what anyone intended. Tatum and Soderberg seem to have wanted to make a realistic look at a profession not often depicted on screen. Warner Brothers seemed to want to make a summer party movie - like a "Coyote Ugly" for straight girls and gay guys. Sadly it's a mixture of both that doesn't entirely play well together. It has its moments for sure, but when it's trying to be too serious, we wish for more skin. And when we have skin, we want it to be more invigorating.

Something tells me the film will do just fine and Soderberg is so well respected, the film will probably garner favorable reviews. Just how audiences will react (there were walk-outs at the screening I attended) only time will tell.
Magic Mike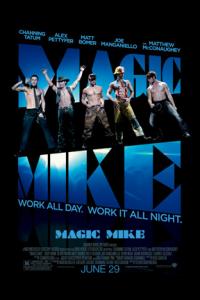 By day, Mike (Channing Tatum) makes ends meet any way he can -- handyman jobs, detailing cars or designing furniture. But nighttime is when Mike really gets to display his many talents: He's the hot headliner in an all-male revue. Mike sees potential in a 19-year-old he dubs the Kid (Alex Pettyfer), takes the teen under his wing and instructs him in the tricks of the trade. However, Mike learns there's a downside to the stripper lifestyle when it threatens his romance with the Kid's sister.
Info
Runtime :: 110 mins
Release Date :: Jun 29, 2012
Language :: Silent
Country :: United States

Cast
Magic Mike :: Channing Tatum
Adam/The Kid :: Alex Pettyfer
Dallas :: Matthew McConaughey
Brooke :: Cody Horn
Joanna :: Olivia Munn
Ken :: Matt Bomer
Nora :: Riley Keough
Big Dick Richie :: Joe Manganiello
Tito :: Adam Rodriguez
Tarzan :: Kevin Nash
Tobias :: Gabriel Iglesias
Sal :: James Kelly
Paul :: Reid Carolin
George :: George Sack
Portia :: Micaela Johnson
Ruby :: Denise Vasi

Crew
Director :: Steven Soderbergh
Screenwriter :: Reid Carolin
Producer :: Nick Wechsler
Producer :: Gregory Jacobs
Producer :: Channing Tatum
Producer :: Reid Carolin
Cinematographer :: Peter Andrews
Production Design :: Howard Cummings
Film Editor :: Mary Bernard
Costume Designer :: Christopher Peterson
Casting :: Carmen Cuba
Art Director :: Chris Dileo
Set Decoration :: Barbara Munch Cameron

Kevin Taft is a screenwriter/critic living in Los Angeles with an unnatural attachment to 'Star Wars' and the desire to be adopted by Steven Spielberg.
Comments on Facebook