Moana
Disney is starting to give Pixar a run for its money by crafting another beautiful, inspiring musical treat that will entertain generations young and old and have you tapping your toes out of the theatre.

Beginning with "Tangled," Disney has ushered in a new generation of musical "princesses" that have become icons for girls (and boys) everywhere. Tough, smart, and independent, these are the princesses for a new age and Disney's "Moana" is no different.

Directed by Ron Clements and John Musker (both of "Aladdin" fame), as well as Don Hall ("Brother Bear") and Chris Williams ("Big Hero 6"), the film's pedigree is impressive enough. But add in music by Lin-Manuel Miranda (creator of a little show called "Hamilton") and Hawaiian composer Opetaia Foa'I, and you understand you're seeing something special.

What makes Disney's latest musical offering so distinct is its attention to casting Hawaiian actors in the roles of the Hawaiian characters. "Moana" takes place on the islands of Hawaii, and it is a blessing that they didn't whitewash cast the film. Even Dwayne Johnson - the only big-name actor in a lead role - is of Hawaiian decent, proving that Hollywood can do right in their casting choices.

As for the movie itself, it tells a rather typical Disney tale with the usual spin that makes it still original despite hitting every expected story beat. We have a plucky princess-to-be that thinks outside the box, a conservative father, an all-knowing grandmother, a whacky animal sidekick, and comic relief in the form of a demigod named Maui (Dwayne Johnson).

That princess is Moana (Auli'l Cravalho), a young woman poised to become the ruler of her people. She dreams of being something more than what is expected of her. While she tries to be a future ruler, when she offers fresh new alternatives for problems the village encounters she is often met with resistance, mostly from her father Chief Tul (Temuera Morrison). When their inlets stop giving them fish and worry overtakes the tribe, Moana goes about trying to find a solution. This is when she discovers the truth about her people's history - that they were seafarers exploring the vast oceans. She decides they must venture out into the waters to find food, but, as usual, she is met with opposition. It is her wise Gramma Tala (Rachel House) that reminds her that she was chosen by the ocean as a child to right a wrong that occurred many, many centuries earlier. That wrong is legend, and involves a demigod named Maui who stole the sacred heart of a beloved island, thus causing destruction for the people of Hawaii. Moana realizes she must venture out across the waters to find Maui, bring him the stone, and correct his mistake.

Nothing truly surprising happens from here out, but what makes it so entertaining are the spins on the classic Disney storytelling and the blatant moments where the writers actually call out how Disney films progressed in the past. Furthermore, this is the first Disney Princess movie without a requisite love interest. All of this moves the Disney lexicon in a positive direction, although you can sort of feel the strains of the writers as they make sure to create a politically correct princess for a new generation. Props to Disney for doing that; it's needed and important. But it sometimes smacks a little like agenda rather than story. Again, there can be no complaints about what they are doing; I only mention it because it's starting to feel obvious.

That said, the movie is utterly delightful. The songs by "Hamilton" mastermind Miranda and Hawaiian musician Foa' are catchy and purposeful, despite not being as catchy as those from "Frozen." However, Johnson's infectious "You're Welcome" is still stuck in my head, and millions of acting divas everywhere will be belting out the requisite mountain ballad "How Far I'll Go" with earnest passion. The animation is glorious, with bright, warm colors and a realism that is uncanny. Like "Frozen" and "Tangled," there's a lot of amusing slapstick and inventive sight gags, not to mention fun characters like a crafty crab named Tamatoa (Jermaine Clement) who has his own song and even shows up after the end credits to berate a fellow Disney character.

All of this is wonderful and goes down easily. "Moana" never reaches the heights of "Frozen," but even so it far surpasses the other animated films that have come out this year. (Aside from maybe "Kubo" -- yet, this is still more entertaining.)

This is one Disney destination to put on your travel itinerary, and for that you can say "You're Welcome."
Moana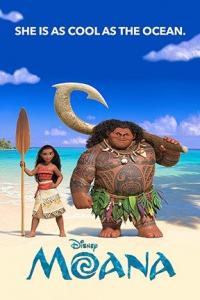 An adventurous teenager sails out on a daring mission to save her people. During her journey, Moana meets the once-mighty demigod Maui, who guides her in her quest to become a master way-finder. Together they sail across the open ocean on an action-packed voyage, encountering enormous monsters and impossible odds. Along the way, Moana fulfills the ancient quest of her ancestors and discovers the one thing she always sought: her own identity.
Info
Runtime :: 113 mins
Release Date :: Nov 23, 2016
Language :: Silent
Country :: United States

Cast
Voice of Maui :: Dwayne Johnson
Voice of Gramma Tala :: Rachel House
Voice of Chief Tui :: Temuera Morrison
Voice of Tamatoa :: Jemaine Clement
Voice of Sina :: Nicole Scherzinger
Voice of Heihei :: Alan Tudyk
Voice of Fisherman :: Oscar Kightley

Crew
Director :: John Musker
Director :: Ron Clements
Co-Director :: Chris Williams
Co-Director :: Don Hall
Screenwriter :: Jared Bush
Producer :: Osnat Shurer
Executive Producer :: John Lasseter
Film Editor :: Jeff Draheim

Kevin Taft is a screenwriter/critic living in Los Angeles with an unnatural attachment to 'Star Wars' and the desire to be adopted by Steven Spielberg.
Comments on Facebook